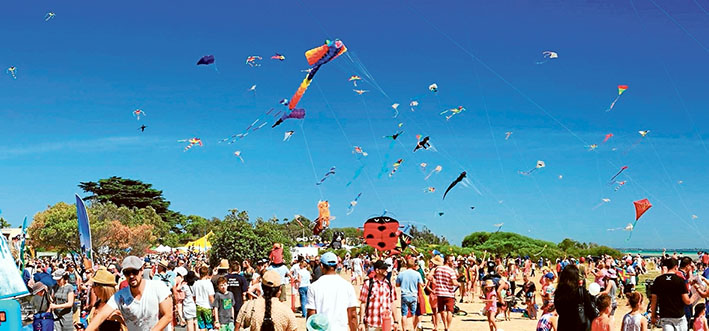 Remember the joy of flying your first kite? The anticipation as it lifted into the air? The spark of magic as you discovered you could actually play with the wind? Well, you can experience it all again at one of Australia's premier kite events: The Rosebud Kite Festival.
On Sunday 12th March, both the young and the young at heart will come together to celebrate the art of kite flying. Visitors can make and fly their own kite courtesy of local outfit; Kites 4 Kids. And alongside the novice kite flying arena, will be the latest designs and displays from a team of internationally acclaimed kite flying professionals with their giant super-sized Maxi Kite creations. Crowds will be mesmerised by a flotilla of whales, spacemen, flying red and green dragons, and all manner of creatures from the land and sea. There'll also be a display of Australian-themed delta kites, animated designer kites and the extremely agile sport kites.
With a jam packed festival program on Sunday 12th March, the fun line-up of live entertainment on the main stage (from 11am – 5pm) will be hosted by the fabulous Frederico Boogie, as well as kids rides and carnival, roving entertainers, circus workshops, wildlife encounters and much, much more.
There are plenty of food stalls throughout the site, but you are advised to bring a rug or folding chair and be prepared to stay a few hours, as you won't be able to tear yourself away from all the activity.
2017 Rosebud Kite Festival
When: Saturday 11th March: Meet the Kite Makers (no other activities) 10am-1pm.
Sunday 12th March: The Main Event (kite flying, stalls, carnival, live entertainment) 11am-5pm.
Where: Foreshore at Jetty Rd., Rosebud.
Website: www.rosebudkitefestival.com.au