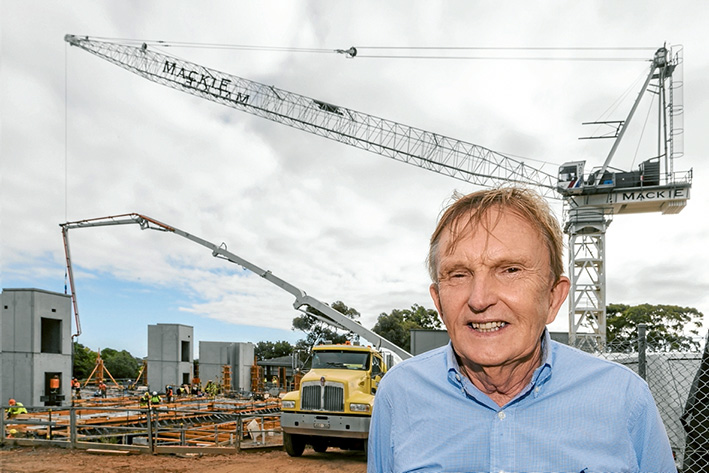 THE huge crane working above a large commercial site in Nepean Highway, Mornington, has been turning drivers' heads for a few months.
Ralph Mackie, of the Frankston-based construction company that bears his name, agrees towering 64-metre boom has "stirred up a lot of interest".
The machinery is at the heart of a construction project to build a $35 million, 92-bed nursing home.
Once finished, the home will have underground parking on the 5000 square metre site.
The first stage is scheduled for completion in 12 months. The second stage, for 35 more beds, will lift the total cost of the three-level project to $45-$50 million.
The building will be equipped with lounges and command views over Mornington to the bay.
When talking to 72-year-old Mr Mackie, it's obvious the job is as much a labour of love as just plain work.
His Mackie group has built hospitals and similar buildings around Victoria and, after speaking with Mornington friends, made him realise the need for a top class nursing home.
"I bought the land and the licences and dreamed I would be a nursing home proprietor," Mr Mackie said.
"Then I began to realise that, if I was running it, the residents would be eating pizza every night of the week because I am not really a nursing home operator."
Enter experienced hand Chas Jacobsen, of Mt Eliza, whose family runs long-established aged care resorts The Village Glen and Ti-Tree at Village Glen, at Rosebud, which cater for more than 1000 residents and employ about 250 staff.
Mr Jacobsen saw value in taking over the completed project and the two friends struck a deal, with him owning and running Ti-Tree at Mornington from next year.
But back to cranes, which Mr Mackie believes are the "icons of the building industry".
Able to lift 16 tonnes vertically and all of two tonnes at the full extension of its boom, the M380D Favelle Favco, designed and built in NSW, is regarded as one of the best in the business (they have been used to erect New York skyscrapers). The $3 million machine towering over Mornington has been tested to 150 tonnes over the past 10 years and is so good at working in a confined space that the tone in Mr Mackie's voice suggests it's his pride and joy.
"Everything about this crane spells safety," he said. "Being a luffing crane it does not have to extend over someone else's property when delivering a load."
"It's changed the way all buildings are built because it can work on a small footprint. The brakes are always on – they even default to 'on' – for safety."
Mr Mackie recalls a building job at St Vincent's Hospital where a fully laden tip truck, in a tight corner, was picked up and gently turned around by the crane.
Mr Mackie, an avowed communist, is the third generation of the family building company which began in gold and nickel plating in London in the 1880s. His grandfather put the gold leaf on the cross atop the dome of St Paul's Cathedral in 1912, and his grandmother fitted out the art deco Russell St police headquarters, built in 1940, as well as hospitals and banks in Melbourne in the pre- and post-war years, as well as grand homes of the well-to-do.
Mr Mackie's father, Gilbert, started the building company in Melbourne in 1953 with his son as a 16-year-old apprentice. One of their projects was working on primary schools at Tyabb, Somerville and Baxter.
At 22 the younger Mr Mackie ventured to London to work as a builder for four years before returning in 1970. "I came home for a while then said I was going back to live in England, but I changed my mind and stayed here to give dad a hand."
Soon he had taken over and has run the company as sole director for the past 46 years.
Building is in the family's genes, with daughter India a celebrated architect in New York. Mr Mackie said he plans to hand over the company reins to his son, Oliver, "when I die".
Before then, Mr Mackie is looking forward to enjoying the hospitality – and the views – from his reserved room at the nursing home he and his beloved crane are building in Mornington.