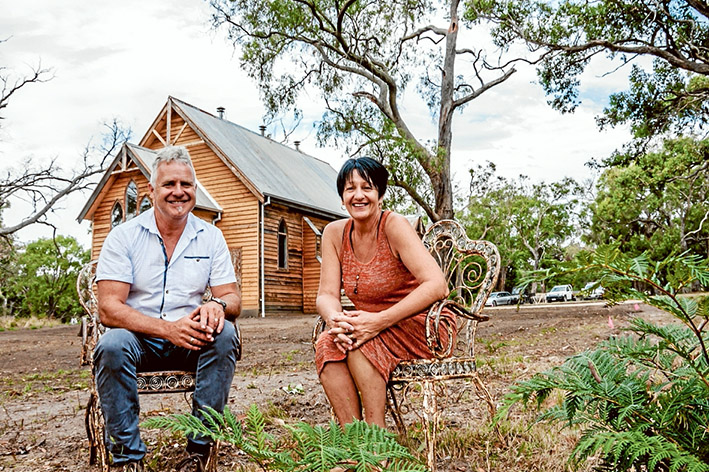 AFTER developing a rural property at Merricks North for wedding receptions Mt Martha couple Chris and Donna McEvoy decided one thing was missing: a church.
Buildings already set among Tanglewood Estate's vineyard, eucalypts and gardens include the barn (seating for up to 200 and with an interior made from recycled timbers); a winery (seats 130 with commercial kitchen, bar and deck); and the mud brick studio (suitable for before or after ceremony drinks and small "cocktail" weddings).
There is also a residence that can be used by bridal parties and a heart-shaped dam with a back drop of Port Phillip for photographs.
While couples did not always want a church wedding, the McEvoys decided something with an historic flavour would add an extra dimension to Tanglewood's 60 hectares.
A wide ranging search eventually led to the small Mallee town of Woomelang, where a deconsecrated 1906 era former Anglican church was lying unused.
The church was flat-packed by a team led by Flinders-based builder Matt Johnson and then re-erected at Tanglewood.
Mr McEvoy said while some couples chose to have their marriage ceremonies either outdoors or inside one of the other buildings, the weathered church often featured in their wedding photo albums or videos.
"There's nothing religious about it [the church] and we've installed clear windows so that those inside are drawn to the views and natural surrounds on the outside," he said.
First published in the Southern Peninsula News – 28 February 2017