SOCCER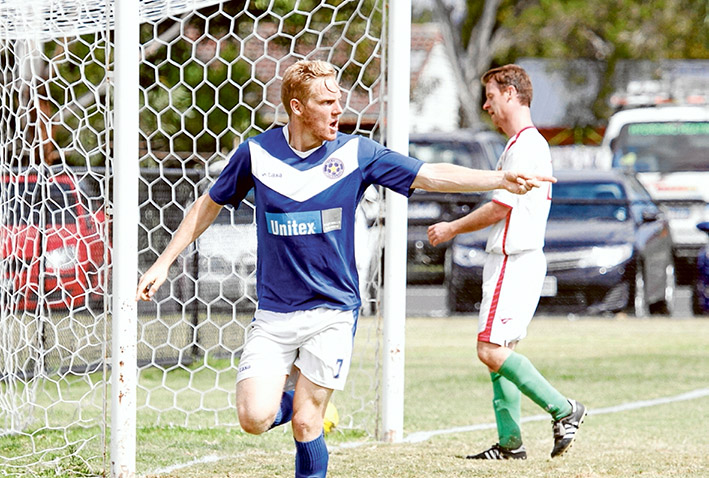 By Craig MacKenzie
A MARCUS Collier hat-trick rescued Skye United and powered its 5-3 come-from-behind FFA Cup win on Saturday against Elwood City.
The match was held at Doveton's Waratah Reserve and Skye was forced into extra time to settle the issue against its lower league opponent.
Daniel Attard ran onto a through ball and slotted it past advancing Elwood keeper Roddy Beccara in the 22nd minute but by half-time Elwood had come roaring back to lead 2-1.
A Sammy Hehir free kick had levelled the scores after 37 minutes and a John Andrinopoulos own goal just before the break saw Skye trudge off the pitch ruing its profligacy up front.
A minute into the second half Scott Vile's cross from the left was greeted with a superb low diving header from Anthony Moran at the near post to make it 3-1 and Skye had a mountain to climb.
Endeavour United recruit Jason Nowakowksi gave Skye some hope by converting a 73rd minute penalty and a stunning Collier volley in the final minute of normal time gave Billy Armour's men a lifeline.
By now Sandown Lions recruit Wumjuck John Jang was trying to outdo the Energizer Bunny and Elwood's flagging defence couldn't contain the livewire attacking midfielder.
Two minutes into the second half of extra time Collier struck a low long-range shot that eluded Beccara and went inside the far post and in the final minute of the extended period big Khor Gatluak nutmegged Vile then cut the ball back to Collier who skinned an opponent then cheekily stroked the ball past Beccara to make it 5-3.
State 4 South outfit Baxter bowed out of the FFA Cup with a 3-1 home loss to State 3 North-West opponent Fawkner on Saturday.
Baxter's goal came when big Mark Pags broke through and lobbed the Fawkner keeper in the 40th minute after having a goal controversially disallowed earlier in the half.
Fawkner's goals came from Ray Rusca (24th minute), Josh D'Alessi (28th) and Saso Grozdanoski (68th).
Rosebud Heart travelled to Ballarat on Sunday and thumped local side Victoria Park 7-0 in their FFA Cup clash.
Perennial goal machine Dave Greening scored five with singles to Simon O'Donnell and Cory Osorio.
The pick of Greening's haul was a superb team goal started by keeper Sean Skelly who rolled the ball wide and a neat one-two released Callum Richardson whose cross was converted by Greening with a diving header.
Somerville Eagles is out of the FFA Cup after losing 2-1 to Latrobe Valley side Falcons 2000 at Monterey Reserve on Sunday.
The Gippsland visitor had already knocked out North Ballarat and Rowville in qualifying for the first round proper and created the better chances in the first half but could not break the deadlock.
Falcons' best chance came in the 38th minute after a defensive blunder by Somerville substitute Chris Hales who had replaced the injured Dalton Thomas-Staines in the 30th minute.
Hales was robbed by Falcons' overlapping left back Kevin Carcellar who cut the ball back to Jamie Pistrin to roll into the path of Nick D'Alessandro who blasted his shot over the bar from close range.
The stand-off was broken three minutes into the second half when D'Alessandro was sent through and neatly slotted the ball past advancing Eagles' custodian Toby Lawson.
D'Alessandro again broke clear a few minutes later only to lob the stranded Lawson and the crossbar.
A fine solo run past three opponents by Falcons' Jesse Kennedy enabled him to lay the ball off to Tom D'Alia in the 60th minute but his low strike from the edge of the area was wide of the far post.
Then came a frenzied minute in which two goals were scored.
In the 71st minute Jarryd Lymer who had gone forward for a set piece met the ball with blistering force sending a sizzling volley past Falcons' keeper Adam Brooker.
Eagles' fans were still celebrating when Conor Clarke restored Falcons' lead when he broke into a one on one with Lawson and neatly stroked the ball past the helpless keeper.
Clarke is the son of Irish defender and former Morwell Falcons star Gerry Clarke and his well finished goal was the sealer.
The draw for the second round of the FFA Cup takes place at FFV's St Kilda Road headquarters today (Monday).
This draw will include Peninsula Strikers, Seaford United and Frankston Pines.
Mornington, Langwarrin and Casey Comets enter the cup draw at round three stage with NPL clubs joining the competition during round four.
Meanwhile Frankston Pines vice-president Daniel Plaiche last week announced that four more Mauritian imports are heading to Monterey Reserve.
Fabrice Pithia is an attacking midfielder, Dwayne Diamond-Heerah is a striker, Adrien Botlar is a striker and Damien Balisson is a left back or defensive midfielder.
Pithia and Diamond-Heerah are expected to join Pines in March in time for the opening of the league season.
Botlar and Balisson are 20-year-olds currently plying their trade in the Mauritian Professional Football League which ends in June. Both have represented the senior national team and are expected here in July.
Pines are in talks with midfielder Francois Armansin from Casey Comets, wide midfielder Sajnesh Sugrin from Morwell Pegasus and Alfonso Cardinale, ex-Keilor Park, who was goalkeeping coach at Casey Comets last year.
Langwarrin mauled visitor Whittlesea United in Sunday's friendly at Lawton Park running up a 9-0 scoreline with English import Alex Metcalfe scoring four goals.
Casey Comets play Doveton in a friendly at Comets Stadium this Wednesday 1 March at 7.30pm, Baxter has a friendly at home against Ashburton next Saturday at 3pm, Mornington is at home next Saturday against Westgate at 5pm while Langwarrin is at Phillip Island for a pre-season camp next weekend.
Preseason friendly results: Peninsula Strikers 0 Mornington 4, Casey Comets 3 Mazenod 0, Mornington 1 Banyule Utd 2, Frankston Pines 2 Lyndale Utd 2, Seaford Utd 1 Southern Stars 1, Langwarrin 9 Whittlesea Utd 0.