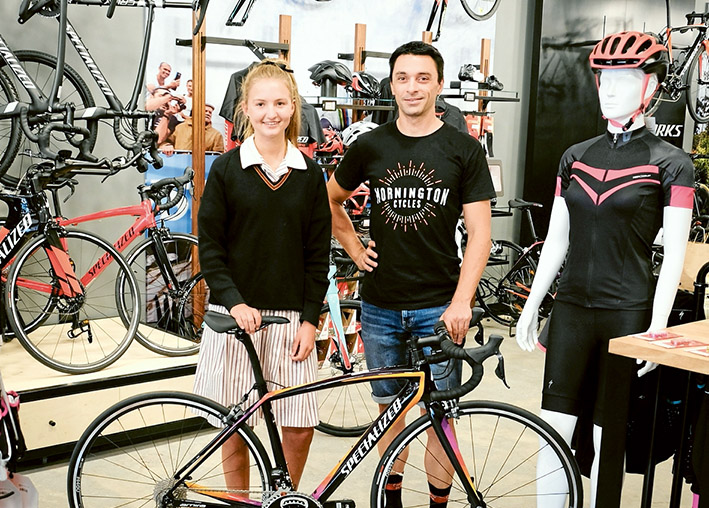 MT MARTHA triathlete Lily van Raay's first race with the Victorian Triathlon Team at Glenelg, South Australia, in early February ended in disaster.
Her $3000 bike, parked with others at their caravan park at Glenelg, South Australia, was stolen the night before the race, leaving her stranded.
"She was devastated," dad Doug van Raay said.
But help was at hand. Knowing that Lily, 14, still had a few more races to go in the multi-race triathlon series, Mornington Cycles came to the rescue by loaning her a new bike.
Mornington Cycles proprietor Brad Clark said the store was happy to help out. "We got to know the family after Lily bought a helmet and then Mr van Raay came in again after it was damaged," Mr Clark said.
"They had already made a significant investment with us so we were happy to help out when we heard that Lily's bike got pinched.
"I told Doug that there was no need to rush out and buy one and that we were happy to loan her one."
The Specialised Cervelo bike was perhaps even better than her stolen bike. "She loves it and rode her best-ever bike leg on Sunday," Mr Clark said.
Lily, who attends Haileybury College, proved that by coming fifth in the challenging under-16 section of the ActiveTRI Series at Sandringham, Sunday 12 February, in a 400-metre swim, 20km-cycle and five kilometre run. It was her best bike leg. Her next race is the Barwon Heads Triathlon in two weeks.
Rosie Price at the store had the last word: "She's a gorgeous kid and she's going to be a great triathlete."
First published in the Mornington News – 28 February 2017