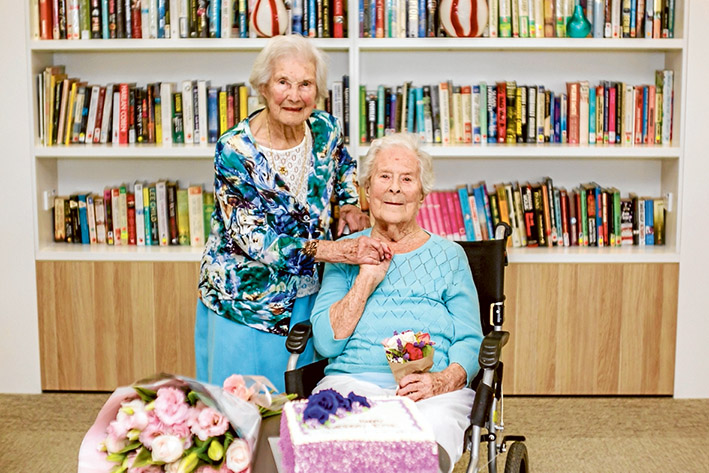 TWO Peninsula Grange Aged Care residents are celebrating milestone birthdays at the Mornington centre.
Jo Cooper, who turns 100 on Thursday 9 March, when born in Sorrento was the first great-great-granddaughter of the first white baby born in the settlement.
She moved to Melbourne to spend her married life with husband Ern and then returned to the Mornington Peninsula to spend her later years with her husband. She was one of five sisters and two brothers and grew up riding horses and swimming in the summer.
Ms Cooper has two children, two grandchildren and four great-grandchildren.
The secret to a happy marriage, she says, is communication and showing love for one another. Being friendly with each other is an important lesson she has learned.
Asked what she knows now about living a happy and successful life, she said: "Work together and cooperate with each other."
The most important principle she has lived by is respect for others.                         
Ethel Lanphier turned 102 on Thursday 23 February, and enjoyed a small celebration with other residents at the home.
Born in Maryborough, Victoria, as one of five sisters and four brothers, she worked as a waitress and housemaid.
Ms Lanphier married husband George when she was 19 and had a son and three daughters. They were married for 72 years, until George died 10 years ago aged 99.
She has 15 grandchildren, 29 great-grandchildren and four great-great grandchildren and lived independently until she was 101.
Her secret to a happy marriage: "Take life as it comes and don't worry."
And the major values she lived by? "Life just falls into place."