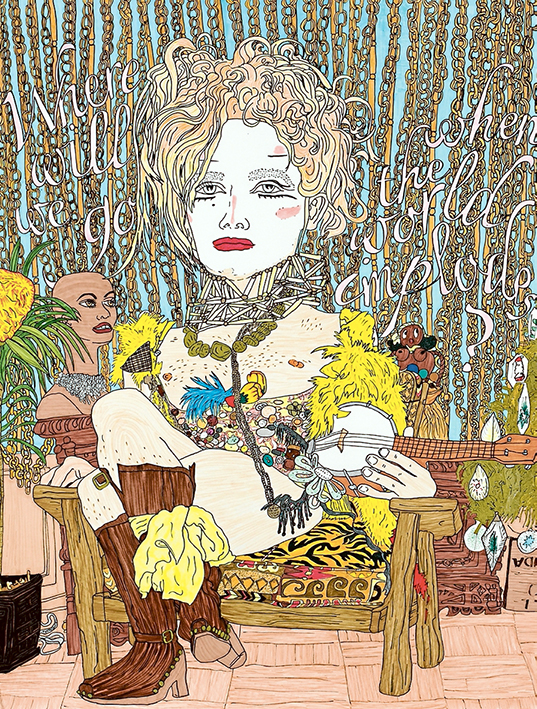 In Between you and me TextaQueen explores gender, race and identity through the medium of fibre-tipped pens. Bringing together work created over a 15 year period, this survey exhibition reflects on how visual and popular culture inform personal identity via re-interpretations of the salon nude, re-creations of cultural and historical identities undressed in the Australian landscape and critiques of colonial histories in apocalyptic movie poster portraits.
TextaQueen was an artist in residence at the Mornington Peninsula Shire's Police Point Artist in Residence Cottage in 2016. A new body of photographic works created during the residency is on display in the exhibition, where TextaQueen draped herself in seaweeds, saltbush and other flora of the landscape to evoke high fashion photography.
Plan A / Plan B: The fanciful world of Stephen Mushin is an exhibition of drawings, 3D printed models and back-of-napkin calculations for unorthodox, but theoretically possible plans to save the world. Stephen Mushin is an inventor, designer and artist who has considered fantastical ways to save the planet, including an enormous model of a taxi-milkshake-café powered by farting cows and a floating polar bear habitat made of recycled refrigerators. Visitors to the exhibition can create their own fantastical designs out of 10,000 magnets featuring 1,000 of Stephen Mushin's objects.
Also on display is Matthew Clarke's second largest painting ever, Wallabies Republic, exploring his long running themes of environmentalism and wallabies.
Join TextaQueen in conversation about cultural identity with Max Delany, Artistic Director and CEO of ACCA and Anusha Kenny, curator and writer on Thursday 30 March, 5.30pm, from $18. Stephen Mushin is hosting a creative ideas session on Sunday 23 April, 4pm, from $12.
Pre-schoolers can enjoy a Young at Art session on Tuesday 14 March or Tuesday 18 April, 10am, $5. School holiday workshops for teens with TextaQueen or 8-14 year olds with artist and designer Stephen Mushin, 5 & 8 April, $12.
MORNINGTON PENINSULA REGIONAL GALLERY. 24 Feb – 30 April. Civic Reserve, Dunns Road, Mornington.
Hours: Tuesday–Sunday 10am–5pm.
Exhibition admission fees: $4 adults / $2 concession.
General information: 03 5950 1580 or mprg.mornpen.vic.gov.au