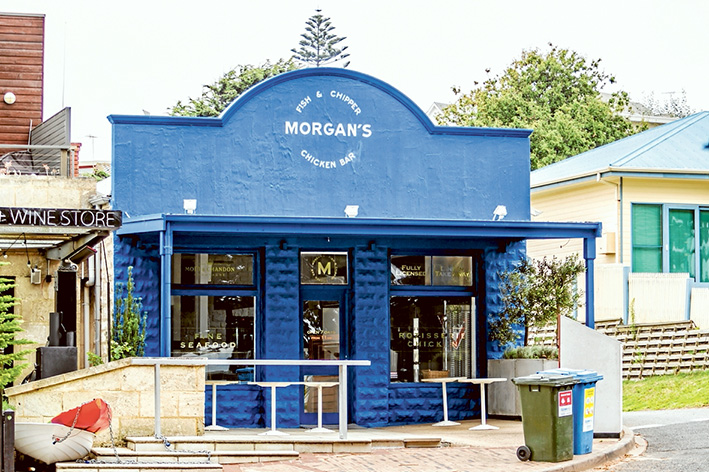 BEAUTY is in the eye of the beholder, and the bright blue colour scheme of Morgan's fish and chippery in Sorrento is no exception.
Owner Julian Gerner, who says he received the go ahead for his chosen colour scheme from Mornington Peninsula Shire council last year, thinks it is attractive.
"The colour is part of the branding of the fish-and-chip shop," he said.
"I've spent hundreds of thousands of dollars on the trading space yet people choose to focus on my painting it a certain colour. Taste is subjective."
Mr Gerner said he had a permit to paint the "whole facade of the shop".
But others in the town are incredulous, with new Nepean ward councillor Bryan Payne saying the paintwork is "another blight on the heritage buildings in Sorrento".
"The town has quite a few heritage-listed buildings and we need to preserve them," he said. "Everyone in Sorrento feels the same way."
The paint job has also drawn the ire of Sorrento Historical Society and Nepean Conservation Group. Member Frank Hindley said it was apparent the council had made an error in issuing a permit for the paint job in January last year.
"It is well-known and generally understood that Sorrento's heritage buildings should not be painted – especially not limestone buildings," he said.
"The paint is very damaging to the limestone."
He said the permit showed the "complete ignorance" of the shire's planning officers.
Resident Ken Hailes said "dozens of individuals had submitted formal complaints to the shire which may lead to legal action to have the paint removed".
He said this would be expensive as the paint had soaked into the limestone.
Mr Gerner said the bright blue paint covers secondary rendered limestone on the façade, not the original solid limestone of the building which has previously been a mortuary, Melbourne Sports depot agency, saddlery and hardware store. It was listed as the original No. 15 in the old Sorrento phone book.
"I treat my association with heritage very seriously," he said.
"I would not paint raw limestone. This has been rendered and it's more of a bagging; you can see two layers of old paint on it.
"There's been absolutely no contact between blue paint and raw limestone."
Brad Morgan, whose great-great grandfather built the shop, conceded Mr Gerner had received a permit to paint over rendered brickwork: "The council has buggered it up."
"The planning department said it was supposed to look like the Mediterranean [but] I told them that Sorrento's not the Mediterranean."
Cr Payne said he was "still waiting" for the shire's planning department to explain why the permit was issued.
"The exact details are in dispute," he said. "The lawyers are looking at it now."
First published in the Southern Peninsula News – 7 March 2017