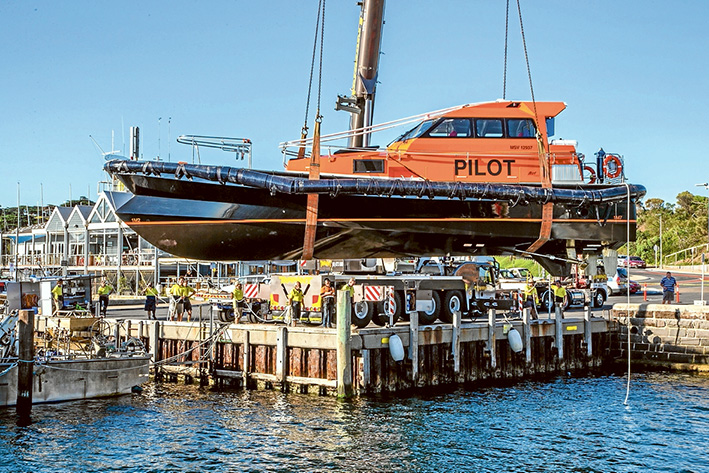 EARLY risers got a glimpse of Hart Marine's newest high performance pilot boat as it was transported by low-loader to Mornington boat harbour, 5am, Tuesday 28 February.
The $2.5 million self-righting composite design will work out of the port of Burnie in Tasmania.
Its wide hull, wave-piercing "beak" bow, oversized rudders, and spacious side decks combine to allow easy pilot transfer while steaming alongside slowly moving ships. The wheelhouse is suspended from the hull to reduce noise and vibration, easing crew fatigue.
"Hellyer" – named after a region in north-west Tasmania – took 70 Hart boat-builders 10 months to complete. It is the 17th in a line which began when the Yuilles Rd, Mornington, company joined with French naval architects Pantocarene to create an "unsinkable" pilot boat. The request came from Port Phillip Sea Pilots after a tragedy off Queenscliff in 1991 when three pilots died during a storm.
Hart general manager Graeme Taylor says the boats have far surpassed performance expectations and are in high demand all over Australia, New Zealand and South-East Asia.
The voyage across Bass Strait to Burnie is a doddle for this design: a sister ship recently sailed to Perth over six days.