SOCCER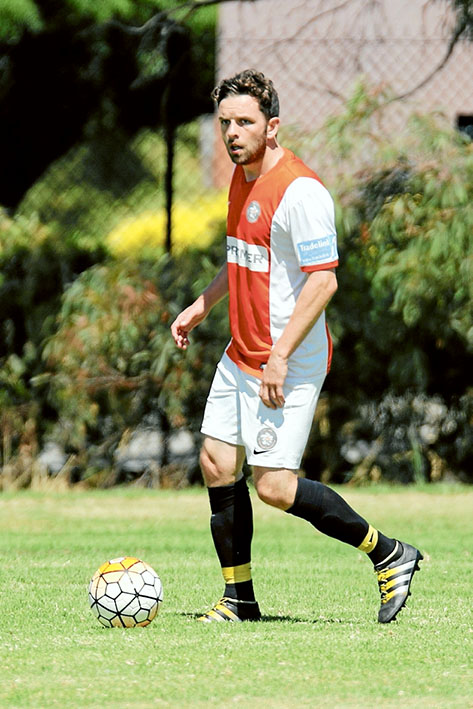 By Craig MacKenzie
SUPERSUB Michael Freeman's extra time winner at Dallas Brooks Park on Saturday sent Mornington through to the fourth round of the 2017 FFA Cup.
Mornington and fellow State 1 South-East title contender Malvern City went head to head in what loomed as the most intriguing cup clash of the round.
The pair locked horns in a battle that didn't reach the heights expected but nevertheless was a closely fought affair that saw Mornington run out a 2-1 victor.
Mornington assistant coach Dale White stepped into the head coach's role in the absence of Adam Jamieson, holidaying in Fiji along with club president Matty Cameron and their families.
High profile Mornington recruit Ryan Paczkowski was put through by Wayne Gordon after five minutes but impressive Malvern keeper Alex Connell got a hand to Paczkowski's shot and the ball was eventually cleared.
English import Nathan Smith was adamant that the ball had crossed the goal line following his low near post strike that Connell got down to one-handed before gathering in the 11th minute.
The physical battle between Mornington hard man Simon Webster and Malvern striker Anthony Giannopoulos made for interesting viewing both on and off the ball.
Mornington's regular No 1 Kris McEvoy was another bitten by the holiday bug so his place in goal was taken by former Frankston Pines youngster James Laminski.
In the 38th minute Laminski failed to cleanly handle a curling left foot strike by Giannopoulos and Daniel Hilder pounced on the loose ball to open the scoring from close range.
Early in the second half a lower back injury forced Webster to be replaced by Danny Black and Smith's left foot strike from 15 metres levelled the scores in the 61st minute.
Extra time was need to separate these sides and the decisive blow was struck by quicksilver striker Freeman who had replaced the injured Gordon at the end of normal time.
In the 10th minute of extra time Malvern's Michael Knott mistimed his pass back and Freeman won the race against the advancing Connell and rolled the ball into the unguarded goal to make it 2-1.
Steve Elliott's man-of-the-match display was a highlight while veteran Craig Smart ran his heart out against a talented Malvern midfield.
The downside for Mornington was the injury to Gordon's right forearm and the club was waiting for x-rays to determine whether or not there was a break.
Casey Comets had to rely on keeper Fariz Zenoozi's two saves in a penalty shootout to see off visitor Whittlesea United in their cup clash on Saturday.
Goals by Ray Markley and Andy Stubley had Comets 2-0 up after 22 minutes but Whittlesea hit back to make it 2-1 at half-time.
The visitors drew level in the second half but an excellent strike from the edge of the area by Dejan Radojicic in the 89th minute looked to have given Comets the match.
Three minutes into injury time Whittlesea again levelled forcing the contest into 15 minutes each way of extra time.
Comets' Guiseppe Guarnaccia and a Whittlesea opponent were sent off in the first half of extra time and when the deadlock couldn't be broken Zenoozi played a crucial role in Comets winning the penalty shootout 6-5.
New Comets signing Allando Matheson played 90 minutes up front before being rested after arriving last week.
The 25-year-old holds dual Canadian and Jamaican citizenship and has been on the books of Toronto FC.
Skye United travelled to Kim Reserve on Saturday but went down 2-0 to State 2 North-West outfit Altona City in their cup tie.
From the get go it was a physical contest but it only took Altona's Marcus Sherif three minutes to open the scoring.
Skye custodian Jonathan Crook did well to save Sherif's initial shot but the Altona forward pounced on the rebound to make it 1-0.
It was a wake-up call for Skye who responded with increasing pressure, making it a more even contest.
Jason Nowakowski thought he had equalised in the 30th minute when he nodded home a Mark O'Connor cross only to be denied by the assistant referee's flag.
Altona was reduced to 10 men in the 39th minute when Sefgi Murat was red carded following an off-the-ball incident.
But Sherif added a second after he ran onto a long through ball and slotted it past the advancing Crook.
Skye's misery was compounded when Khor Gatluak was given his marching orders in the 69th minute for a second bookable offence.
A highly contentious decision by referee Dimitrios Charaktis changed the course of Saturday's Centenary Park cup tie between Peninsula Strikers and State 1 opponent South Springvale.
Strikers had gone into the contest without suspended duo Raphael Stultz and Aziz Bayeh and injured right back Scott Buchanan but two goals in the opening half-hour from Langwarrin recruit Michael Turner had the home team in control.
Turner's second goal in the 26th minute was a gem, a stunning first time volley into the top corner from just inside the area and Turner was still describing the strike the following day.
It took South Springvale until the 85th minute to hit back with a goal from Sajad Mohammadi but substitute Nathan Fenech's 89th minute equaliser was met with disbelief from Strikers' fans.
"Danny Brooks was felled inside our area and everyone stopped waiting for the free kick but one of their guys just kicked the ball across goal in frustration and another one of their players put it in and the referee awarded a goal," said Strikers' gaffer Craig Lewis.
"Players from their dugout ran onto the pitch when they scored and none of them were booked but when I asked the referee to explain why he didn't give us the blatant free kick he sent me off the bench.
"Even South Springvale's coaching staff and some of their committee came up to me after the game and told me we were robbed.
"Our players were outstanding and they didn't deserve what they got."
Substitute Marcelo Arapis scored four minutes into extra time and a second controversial goal by Fenech in the 119th minute rounded off the 4-2 scoreline.
Seaford United was thrashed 8-1 by visitor Essendon United in their FFA Cup clash at North Seaford Reserve on Saturday.
The goalfest got under way in the 7th minute and ended in the 90th minute leaving the home side to trudge despondently off the pitch at game's end.
Dylan Waugh's header in the 62nd minute was Seaford's sole response as Peter Modaferri (two goals), Mateusz Kowalski (two), Julien Cannizzaro, Christian Bellomo, Andrew Imvriotis and Sofiane Soufi all got on the scoresheet.
Rosebud Heart travelled to Paisley Park on Saturday for its cup clash with State 1 North-West side Altona East Phoenix and although it lost 2-1 there were many positive aspects to its performance.
"When you see a State 1 side wasting time against a State 4 side you know you've done well," said Heart boss Scott Morrison.
Heart was without injured trio Simon O'Donnell, Dave Greening and Carlo Cardoso and captain Daniel Hodge limped off after 20 minutes with a corked thigh.
Two goals in the second half to former Yarraville and St Albans striker Goran Jozeljic gave Phoenix a comfortable buffer but Blake Hicks chipped the Phoenix keeper from 25 metres in the 82nd minute to reduce the arrears.
A stunning fingertip save by the Phoenix custodian in the 92nd minute denied Cory Osorio and stopped the contest from going into extra time.
At Lawton Park on Sunday home team Langwarrin eased to a 5-1 cup win over State 4 West outfit North Melbourne Athletic.
Langwarrin's scorers were Connor Belger (2), Aaran Currie, Nabil Mozaffaruddin and Alex Metcalfe.
Substitute Chris Begg got a late consolation for the visitors.
It took until the 41st minute for Langy keeper Robbie Acs to be forced into a save and seconds after guiding a looping header onto the bar and over he was diving and gathering down low at his near post following a firmly hit shot from 15 metres.
Acs was more active in the second half but Langy continued to dominate possession and maintain its interpassing style.
A major blow for Langy was the loss of central defender Kieron Kenny who was helped off after just 12 minutes with a quadriceps strain that could force him to miss the first two games of the league season.
His usual partner at the back, Andy McIntyre, was recovering from a bacterial infection so veteran Boris Ovcin played in a central defensive role.
Disgruntled Langy midfielder Sam Scott is expected to sign for State 1 South-East rival Clifton Hill which should spice up an already tasty rivalry when the two sides clash this season.
Meanwhile Frankston Pines and Southern United are in talks which could result in Southern using Monterey Reserve as a training base.
Pines could have some major infrastructure news shortly and the following friendly matches at Monterey Reserve have been confirmed: Tuesday 14 March, Pines v Ashburton at 7pm; Saturday 18 March, Pines v Riversdale at 3pm.
Baxter defeated Healesville 3-2 in a friendly at Baxter Park on Saturday.
Baxter featured Liam Tinsley, a 30-year-old former Clifton Hill midfielder and 17-year-old striker Travis Ernsdoerfer from Bentleigh Greens.
Tinsley was impressive in the first half while Ernsdoerfer scored Baxter's third goal.
The club is keen to sign both players.
Preseason friendly results: Frankston Pines 2 Heidelberg Stars 2, Baxter 3 Healesville 2.