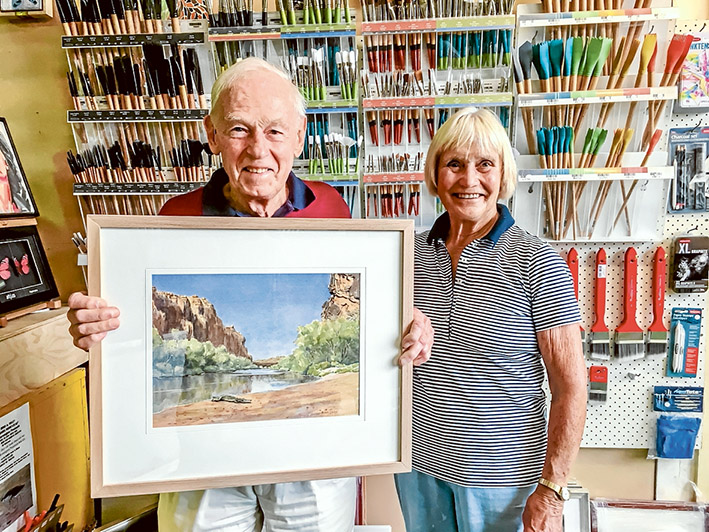 IT'S never too late to have your first solo art exhibition. That's what 85-year-old Mornington resident Brian Gibbs thought – and last week he was busy hanging 18 paintings on the walls of the Somers store for an eight-week show.
Gibbs, who retired after 30 years as an engineer with and international oil company, began painting when he came to the Mornington Peninsula in 1986.
"I retired to pursue my interest in art and water colours," he said.
"I joined the Peninsula Arts Society, taking classes with Robert Wade, Colin Johnson and Ron Muller, and did workshops with other water colourists. I also did life drawing classes and exhibited in various art shows."
Gibbs won a first prize at the Red Hill Art Show and has sold his works in England, Germany, France, the US and here in Australia, but the Somers exhibition is his first one-man show.
His wife Georgie is an enthusiastic supporter: "My husband has three drawers full of beautiful paintings and has never shown any," she said.
Gibbs is confident of selling his works, which include traditional and figurative works, and are priced up to $375.
Peninsula scenes include Bushrangers Bay and Chilean buskers performing at the Emu Plains market.
The Somers store is an ideal setting, he says. "It's got a little gallery and they get a lot of people there."
Any first-night jitters: "No, I am not nervous; it's all out there," he said.
Interest in his works is becoming apparent: "I have already sold two paintings."
First published in the Southern Peninsula News – 21 March 2017