PROVINCIAL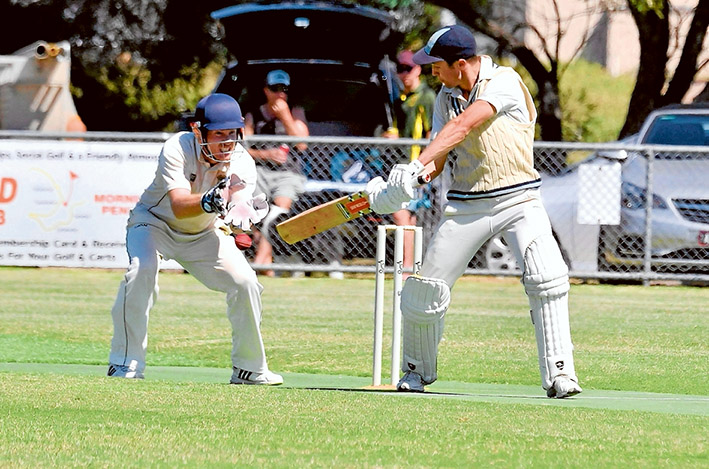 BAXTER are just two wickets away from MPCA Provincial premiership glory against Mt Eliza.
The Mounties were still 100 runs short of the Baxter total of 272 at stumps on Sunday. They will head back to Tyabb this Saturday in the hope that Tim Clark (37no) will carry them to the promise land. It is highly unlikely though.
Baxter are on the verge of winning their fourth flag in less than 10 years – a sensational performance from the club.
On Saturday night at the end of the first day, Baxter had left themselves in a commanding position, batting for the entire day and finishing at 6/223.
Dale Irving was set at the crease, unbeaten on 35 after hitting four boundaries and two sixes, while Ben Brittain was still yet to get off the mark.
On Sunday, Irving went on to make 47 and Brittain contributed 25, helping Baxter to a strong total.
Earlier on day one, openers Joe Rule and skipper Daniel Warwick set up the win for Baxter in the opening session.
Despite having 113 overs to play with, Baxter came out with intent and attacked the Mt Eliza bowlers.
Warwick went after the bowling and the pair put on a 98-run opening partnership with Warwick the first wicket to fall for 57 of 91 balls in the 29th over.
Chris Brittain then came to the crease and was more than content to take a back seat to Rule, who opened the shoulders and started to let fly.
Baxter went to tea on the opening day at 1/150 with Rule not out 78 off 104 balls. However, Rule was caught behind off Justin Grant off the first ball after the tea break.
From that point, Mt Eliza were able to slow down the scoring and pick up some key wickets to give themselves a chance at the end of the first day.
Despite not doing a lot of training through the week due to injury, Shaun Knott still bowled 22 overs and finished the first day with 1/47. He finished with 1/58 from 30 overs. Nick Baron was the pick of the bowlers, however, snatching 3/75 from 30-plus overs, while Justin Grant snared 3/48.
The Mounties needed to occupy the crease for 45 minutes before tea on the second day. They couldn't afford to lose a wicket.
However, Dale Irving snared 2/5 from his first six overs and Ben Brittain picked up 1/4 to have the Mounties 3/22 at tea.
When Justin Grand and Tim Strickland went, it was 5/81 from 23 overs.
Lyle House (40) and Russell Fulton (20) offered some nice resistance and Shaun Knott contributed 25, while Clarke was unbeaten on 37 at stumps.