SOCCER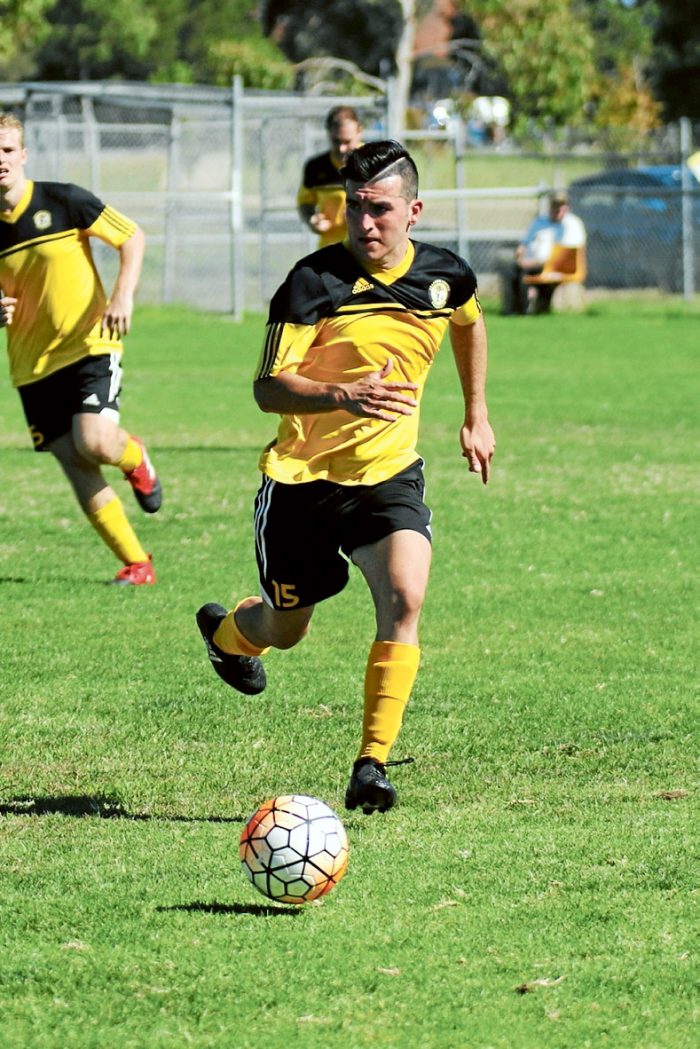 By Craig MacKenzie
CHAMPIONSHIP aspirants Casey Comets and Mornington slug it out on Friday night at Comets Stadium in a blockbuster opening to the 2017 league season.
Both sides have made significant changes to their squads during the off-season and the visitors have boosted their chances of a State 1 South-East title threepeat by improving both the quality and depth of their personnel.
Both camps are keen to get off to a flyer in a season where the championship winner is offered a place in the second tier of the elite NPL competition for 2018.
At the heart of Mornington's defence is the much lauded duo of Simon Webster and Steve Elliott and their Casey counterparts are Nemanja Lojanica and former Langwarrin captain Alex van Heerwarden, another formidable combination.
The transfer coup of the season has been Ryan Paczkowski's return to Dallas Brooks Park after a successful stint with NPL heavyweight Bentleigh Greens and "Patch" and van Heerwarden have a history so you can expect fireworks from their match-up.
Mornington import Matthew Wade has returned to England to attend a wedding but is expected to return for the club's round two league clash.
Comets are hosting a pre-game function at 7pm featuring coaches and players from both teams and a special guest speaker.
Tickets are $35 each and include finger food, beer, wine, soft drink and game entry. Email caseyevents@outlook.com to make a booking.
Once the dust settles at Comets Stadium the next day features another derby dustup when Baxter hosts Rosebud Heart in a much anticipated start to the State 4 South league season.
Both clubs won promotion in 2016 with Heart winning every league game of an historic season and the visitors to Baxter Park go into this clash having won three of four derby meetings against Roy Kilner's men.
Baxter's Mark Pagliarulo is expected to overcome a calf problem but his striking partner Liam Kilner received a bodyblow last week when ruled out for the season due to a bulging disc in his lower back.
Pagliarulo will be partnered in attack by teenager Travis Ernsdoerfer from Bentleigh Greens who signed last week along with former Endeavour Hills midfielder Liam Tinsley.
As we went to press Baxter was trying to complete the signing of young midfielder Jack Gallagher from Kingston City.
The ace up Heart's sleeve could be Italian midfielder Marco Cannella.
Heart was waiting for his international clearance as we went to press and if it comes through in time the ASD Pro Appio star will be thrust straight into the fray on Saturday.
An excellent work rate and good distribution are hallmarks of his game and the coaching staff have been impressed in the four weeks in which he's trained with the club.
"I'm really excited about him and I think he could turn into a fantastic pick-up for us," said Heart gaffer Scott Morrison.
Peninsula Strikers embark on their promotion campaign when they clash with Eltham Redbacks at Centenary Park on Saturday.
Boosting the senior squad with three imports and gun predator Aziz Bayeh says much about Strikers' intentions in 2017 but now it's time to walk the walk.
Eltham won promotion last season and is celebrating its 50th year and there is no doubt that senior coach Paul Harris will field an organised and competitive outfit.
Saturday is an historic day for Somerville Eagles as they make their State 5 South debut against Old Mentonians at Somerville Secondary College.
"I spent two seasons with Heart so I know a fair bit about the sides in State 5 and Old Mentonians are well drilled and resilient and will make it tough for us," said Eagles coach Neil Herd.
"I'd still like to add a midfielder and a striker to the squad and we're continuing to look for those types of players."
Langwarrin's league campaign starts without highly rated central defender and former Macclesfield Town youth team captain Kieron Kenny who has returned to England for family reasons.
Kenny is expected to miss two league games but is tipped to return alongside another central defensive recruit that he recommended to the Lawton Park outfit.
Frankston Pines have been rocked by news that recruits Christopher L'Enclume and Cedric Permal are sidelined after their Mauritian clubs refused to authorise their international clearances and lodged protests with FIFA.
It's believed that FFA is representing Pines in this matter and the club has asked the national body if it can authorise provisional clearances until the standoff is resolved.
On the FFA Cup front no local side remains in this year's competition after Saturday's fourth round.
Mornington was a surprise 2-1 loser at home to Morwell Pegasus, Langwarrin went down 8-0 at home to NPL heavyweight Hume City while Comets lost 4-0 at home to NPL2 outfit Nunawading City.
Morwell hit the front in the 10th minute after Mornington failed to clear a free kick and Samuel Gatpan spun around and hit a low left foot shot in off the far post.
In the 59th minute a long ball into the Morwell area was partially cleared and Mornington midfielder Chris Reid met it on the volley and sent it wide of Morwell keeper Liam Andersen to make it 1-1.
The decisive moment came in the 64th minute when Alpha Turay executed an acrobatic overhead kick following a corner to the back post for what proved to be the winner.
Hume striker Nick Hegarty scored a hat-trick at Lawton Park. Other scorers were substitute Attila Ofli (2), Liam Boland, Anthony Bran and an own goal from Mat Luak.
Nunawading's scorers were Mitch Cooper (3) and Ivan Skoric.
Here are the local senior squads for 2017 with the previous club of new signings in brackets:
BAXTER
GOALKEEPERS: Francis Beck, Daniel D'Alfonso. DEFENDERS: Heath Goss Frank N'tim, Markus Oliphant, Jake Kidder, Matthew Owens, Daniel Sharratt. MIDFIELDERS: Ben Meiklem (Peninsula Strikers), Liam Tinsley (Endeavour Hills), Daniel Disseldorp, Owen Kilner, Billy Liapis, Paul Swann. FORWARDS: Mark Pagliarulo, Travis Ernsdoerfer (Bentleigh Greens) Louis Griffiths, Shaun Walker, Brendan Norris, Liam Kilner (injured).
CASEY COMETS
GOALKEEPERS: Faraz Zenoozi, Orwin Castel (Endeavour Hills Fire). DEFENDERS: Elliot Capel (captain), Nemanja Lojanica (vice captain), Alex van Heerwaarden (Langwarrin), Jesse Martindale, Matt Smith. MIDFIELDERS: Junsoo Park, Ray Markley, Adam Dunsford, Dejan Radojicic (Berwick City). FORWARDS: Liam Ryan, CJ Hodgson (Frankston Pines), Andy Stubley, Ryan Hughes, Marce Janneker, Grady Vickers, Allando Matheson (Master's FA Saints, Canada).
FRANKSTON PINES
GOALKEEPERS: Alfonso Cardinale (Noble Park), Josh Permal (Doveton), Giang Pham (Melbourne Falcons). DEFENDERS: Ben Caffrey, Luke Murray, Graham Hill, Brendan Maokhamphiou (Sandringham), Christopher Morel (Springvale White Eagles), Denis Pauguy, Cedric Permal (Cercle de Joachim, Mauritius), Heip Tran (Keysborough), James Woodland. MIDFIELDERS: Francois Armansin (Casey Comets), Kai Bahrami, Josh Berrisford (Modbury Jets, SA), Matty Davis, Ben Millward (Peninsula Strikers), Gilbert Palmire (Springvale City). FORWARDS: Sebastian Gueho (Chelsea), Christopher L'Enclume (AS Rivière du Rempart, Mauritius), Munib Mohamed (Swinburne), David Ofuho (Cleeland Utd).
LANGWARRIN
GOALKEEPERS: Robert Acs, James Foster. DEFENDERS: Boris Ovcin, Andy McIntyre, Stephen Dick (Musselburgh Youngstars, Scotland), Kieron Kenny (Congleton Town, England), Kurt Wagner-Goldsworthy, Dylan Kilner, Johnny Guthrie, Callum Khaiyath. MIDFIELDERS: Lewis Foster (Dandenong City), Brandon Giles, Mat Luak (Morwell Pegasus), Sergio Yanez (Berwick City), Paul Speed (AFC Liverpool, England), Nick Thorogood. FORWARDS: Alex Metcalfe (Doncaster Rovers), Aaran Currie (Moreland City), Connor Belger (AFC Liverpool, England), Nabil Mozaffaruddin, Caleb Nicholes, Ahmad Suleiman (Hampton Park United).
MORNINGTON
GOALKEEPERS: Kris McEvoy, James Laminski (Frankston Pines). DEFENDERS: Danny Black, Nathan Yole, Stefan Soler (Frankston Pines), Stevie Elliott, Simon Webster, Josh Valadon (Knox City), Jack Truelove (Curzon Ashton, England) Chris McKenna, Nico Georgopoulos (Kingston City). MIDFIELDERS: Scott Millar, Andy Skledar, Craig Smart, Chris Reid, Matthew Wade (Blyth Spartans, England), Aaron Root (Manningham Utd). FORWARDS: Wayne Gordon, Nathan Smith (Brigg Town, England) Michael Freeman, Ryan Paczkowski (Bentleigh Greens), Gino Defeo (Doncaster Rovers), Simon Mur (CB Hounslow United, England).
PENINSULA STRIKERS
GOALKEEPERS: Colin McCormack (Langwarrin). DEFENDERS: Raphael Stulz (AFC Ann Arbor, USA), Scott Buchannan, Troy Williams , Conor Keely, Isaak Barr, John Watson, Sajnesh Sugrim (Morwell Pegasus), Mohammed Khan (Frankston Pines), Aisake Tikoilabasaice, Conor Tzelios. MIDFIELDERS: Leandro Parrella (Domegliara, Italy), Danny Brooks (Wrexham, Wales), Grant Davies, Tom Hawkins, Jack Carter, Adrian Pace, Joe Buccello. FORWARDS: Aziz Bayeh (Doveton), Alex Hopson, Trevor Johnston, Michael Turner (Langwarrin), Matt Morris Thomas.
ROSEBUD HEART
GOALKEEPERS: Sean Skelly, Brad Klarenbeek. DEFENDERS: Chris Sibson (Seaford United), Matthew Pearce, Carlo Cardoso, Beau Sharpe, Ryan Monk. MIDFIELDERS: Daniel Hodge, Adam Poole, Will O'Brien (Swaffham Town FC), Callum Richardson (Peninsula Strikers), Cory Osorio, Marco Cannella (ASD Pro Appio, Italy), Alan Lipsett. FORWARDS: Dave Greening, Blake Hicks, Zach Karolidis, Simon O'Donnell (injured).
SEAFORD UNITED
GOALKEEPERS: Enes Umal (Box Hill), Harrison Burgess, Patrick Bretherton. DEFENDERS: Tristan Stass, Cameron Syratt, Jason Allizi, Amir Music (Springvale City), Nick Ormond, Adam Martin. MIDFIELDERS: Josh Tsung, Daniel Mota (Sandringham), Tom Natoli (Brighton), Paul McGuire, Franco Melatti (Brighton), Daniel Walsh, Dean Snoxel. FOWARDS: Dylan Waugh, Alex Roberts (Skye Utd), Mitchell Lander, Li Nam Wang.
SOMERVILLE EAGLES
GOALKEEPERS: Toby Lawson, Travis Salmon. DEFENDERS: Joel Wade, Michael Easton (Churchill Rams), Kevin McCormack, Jordan Lunt, Christopher Hale (Skye Utd), Matt Swanson. MIDFIELDERS: Mark Woods, Paul Walker (Kangaroo Point Rovers, Queensland), Jarryd Lymer, Damien Finnegan (Middle Park), Bjorn Kutschera, Adam Gordon, Brett Young (Mornington). FORWARDS: David Hughes, Micah Keecher (Frankston Pines), Liam Morgan.
SKYE UNITED
GOALKEEPERS: Jonathon Crook, Lee Heron. DEFENDERS: David Cori, Johnny Andrinopolous (Mazenod), Billy Painting, Mohamad Elhassan, Daniel Utting, Sean Ellicott, Robert Schreurs. MIDFIELDERS: Marcus Collier, Mark O'Connor, Michael Putson, Jason Nowakowski (Endeavour Utd), Khor Gatluak (Sandown Lions), Liam Attard, Edward Bourke, Lachlan Campbell. FORWARDS: Daniel Attard, Nick Theodore, Wumjock Jock (Sandown Lions).
Last weekend's practice match results:
Frankston Pines 2 Riversdale 2, Peninsula Strikers 2 Monash City 0, Baxter 4 Lyndale Utd 0.
This weekend's games:
FRIDAY, 8.30pm: Casey Comets v Mornington (Comets Stadium).
SATURDAY, 3pm: Peninsula Strikers v Eltham Redbacks (Centenary Park), Doncaster Rovers v Seaford Utd (Anderson Park), Baxter v Rosebud Heart (Baxter Park), Somerville v Old Mentonians (Somerville Secondary College).
SATURDAY, 8pm: Mooroolbark v Langwarrin (Esther Park), Mazenod v Frankston Pines (Knox Regional Centre, pitch 1).
Please note that Skye's United's round 1 away clash with Sandringham next weekend in State 3 South-East has been cancelled due to ground availability issues. FFV has tentatively rescheduled the game for Saturday 15 April but the clubs remain in discussion about an agreed date.