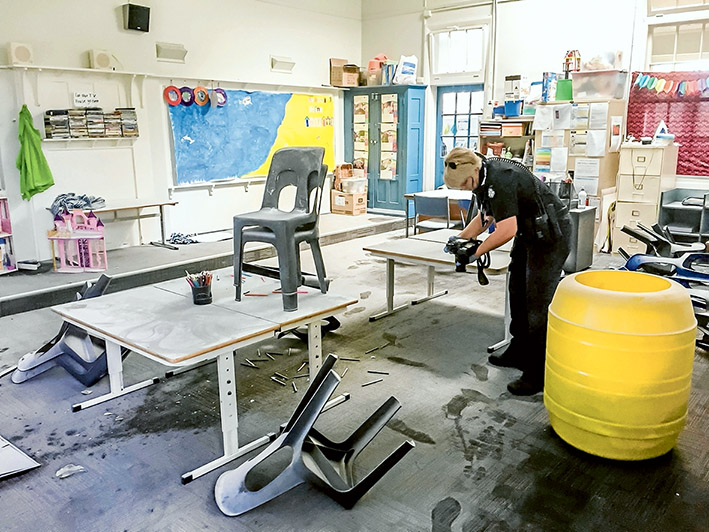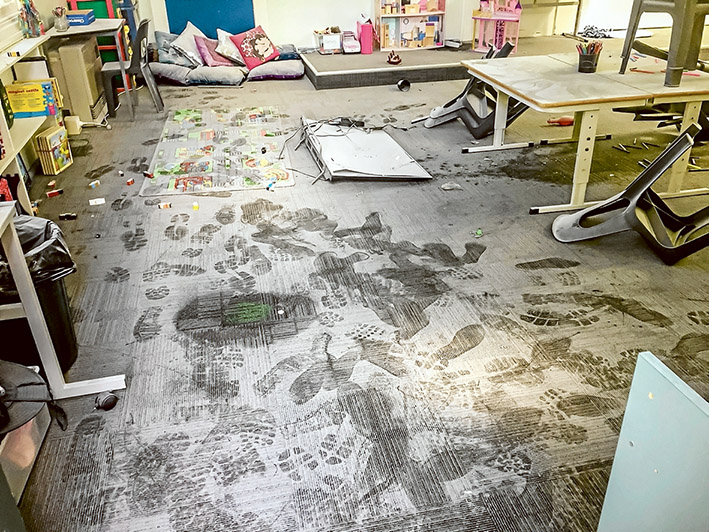 A "COUPLE of dills" who went on a vandalism spree at Rosebud Primary School last week are no match for the "many thousands of wonderful people" in the school community.
Principal Stephen Fisher, who oversaw the clean-up and restoration of the heritage-listed before and after school care room, was speaking after a horror Labour Day weekend when vandals broke in and wrought havoc, early Sunday morning, 12 March.
Mr Fisher said he had "never seen anything like" the destruction caused by the group which caused up to $10,000 damage to walls and floors, equipment, furniture and windows in their night of chaos.
Police have arrested a 16-year-old boy from Kilsyth and say they will also charge two other boys aged 13 and 14 and a girl, 13, from McCrae.
Mr Fisher said a fire extinguisher had been sprayed around the room before being thrown through a window. A two metre by one metre glass fish tank had been smashed causing water damage to the floor and killing fish. A TV set had been ripped off the wall and left smashed on the floor. Tubs of pens and pencils have been thrown around the room.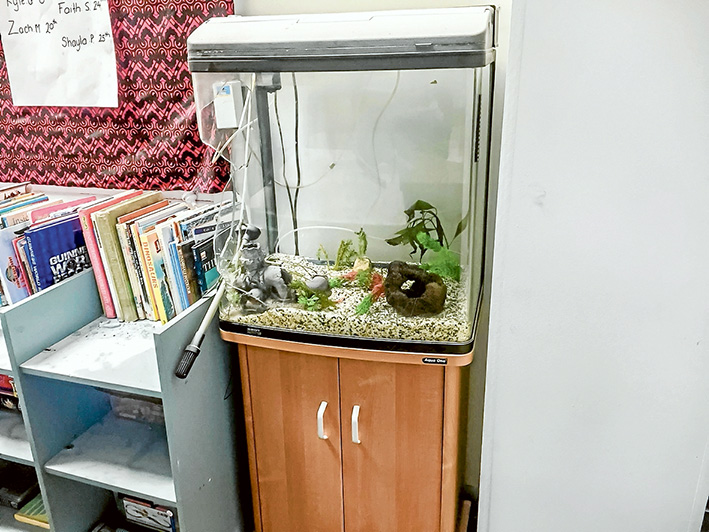 Devastated as he was by the vandals' assault, Mr Fisher was heartened by the strong community spirit shown by parents and pupils who arrived at the Jetty Rd school next day to clean up the mess and fix what had been broken. He was also thrilled with the generosity of local donors.
"It's all been pretty emotional," he said. "We've had an overwhelming past couple of days."
Mr Fisher said the school "did a shout-out on Facebook on Monday and pretty soon we had 70 adults and 30 children here putting back what hadn't been broken".
All the walls had to be washed down, mess cleaned up, broken glass collected, furniture put back and the remains of the fish tank removed.
Mr Fisher, who has been at the school for the past 37 years, said periodic vandalism was something "all schools have to deal with – probably about once a month".
He said he was confident none of the alleged vandals had "anything to do with the school" as pupils.
"The affinity we have between the kids, parents and the school is very strong and being involved in that sort of incident would be completely out of character," he said.
"We have an amazing welfare program where kids that are having issues can go. They become committed and protective of the school. Even kids who are a bit wayward love the place."
He said he was distressed that teachers at before-and-after-school care had worked hard over the holidays getting the room ready for the start of the year.
"The good thing is that it's now back to being better than it was," Mr Fisher said.
A boy, 16, of Kilsyth, who has been charged over the vandalism spree has been bailed to appear at Frankston Children's Court at a later date.
A 13-year-old boy, of Rye, 13-year-old girl, of McCrae, and a 14-year-old boy, of Berwick, will be summonsed to appear at Frankston Children's Court at a later date. And a 13-year-old boy, of Rosebud, was interviewed but later released.
Police believe the five youths may have been also been involved in burglary and theft from a number of cars in the Rosebud CBD and foreshore areas.
Acting Sergeant Steve Drew, of Rosebud police, said items stolen from various vehicles have been returned to their owners.
First published in the Southern Peninsula News – 21 March 2017