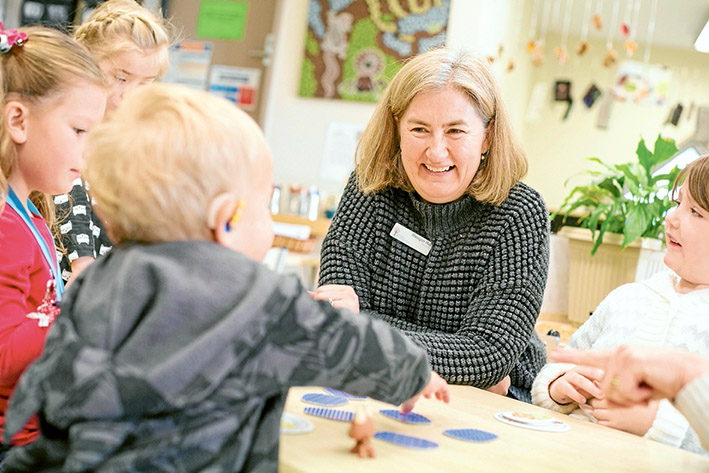 A BENTONS Square kindergarten teacher has been named the 2016 Early Childhood Teacher of the Year for what is described as her "life-changing work with children with additional learning needs".
Meagan Hull received the $10,000 award which "marks the achievements and commitment of early childhood professionals across five categories".
These include promoting children's health and wellbeing, supporting parents, creating collaborative community partnerships, and improving access to early learning.
Ms Hull leads a team of 14 teachers and educators at Community Kinders Plus, whose members also work with early intervention specialists such as occupational and speech therapists and physios, at Mt Martha House, Biala Peninsula and Mornington Park schools.
She said the services assisted children with special needs at kinder while the pupils absorb the benefits of being with "normal" children in a classroom environment.
"They learn from each other and that model of service delivery works well," she said.
"It works well with their parents, too, as having a child with special needs can be isolating. Parents then have the opportunity to connect with the outside community."
Attending kinder may be the only mainstream education that many of the special needs children have, she said. "If they have very significant needs they may go on to a specialist development school making it really important for their families to feel connected with their community.
"All being educators together helps us recognise the value of inclusion as it encompasses so much."
Ms Hull is using the personal development award to travel to the US in May where she and early intervention teacher Jacqui Zuidema will attend a three-day conference in North Carolina and visit kindergartens in Nashville, Tennessee.
"I am going with Jacqui as it is important to share the knowledge and experience gained with someone else," she said.
"This creates a flow-on effect and the knowledge helps everyone else."
Bentons Square kindergarten has four four-year-old groups and two three-year-old groups, with two of the four-year-old groups linking with Biala.
Families and Children Minister Jenny Mikakos said the awards, in their 11th year, recognise the "crucial work early childhood professionals do to make a difference to the lives of Victorian children and families".