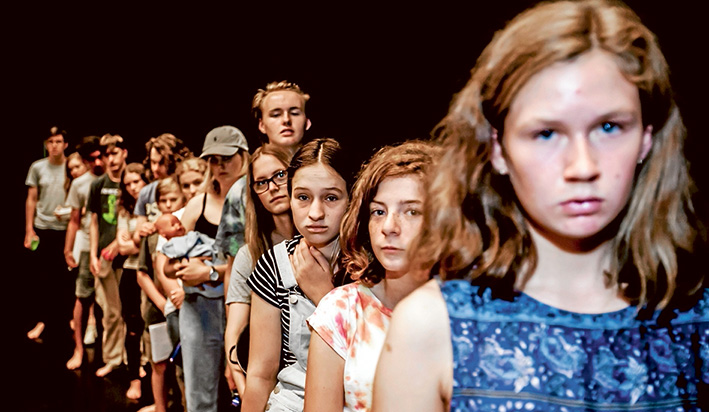 WHILE it's not something they're likely to encounter in Australia, just a short look at any television news service will dish up images of war-ravaged cities and towns.
Examples of besieged cities filled with terrified citizens are all too real and no doubt help inform the young actors in this year's production by the Dreamhouse Theatre Company – Stories in the Dark, by Debra Oswald.
Oswald's narrative centres around 12-year-old Tomas and Anna, 16, who are caught in a war-torn city.
Seeking refuge, they find each other in a derelict mansion.
As the nightly bombing raids unfold, Anna tells Tomas folk stories to distract them both from the horrors lurking outside. They begin a make believe journey into the shifting, shimmering world of ogre grandmothers, princes, singing bones, foolish lads and wolf mothers.
"Stories in the Dark is a kind of dramatic tug-of-war centred on the worth of stories in a time of extreme crisis," artistic director Carole Patullo says.
Oswald says she wanted the play "to be about the power of stories and the limits of stories, about friendship, loss and survival".
Patullo says the "profound and deeply moving" play demands a lot from its 17-member cast.
Each cast member, from four Mornington Peninsula secondary schools, plays multiple roles in both the real and imagined worlds.
"They have worked very hard in rehearsal to create the right mix of hope, horror and humour in the production and I am very proud of their courageous creative choices, and disciplined approach," Patullo said.
The not for profit Dreamhouse Theatre Company catering primarily to 13–18 year olds.
"It aims to inspire a love of the performing arts, and to celebrate the artistic contribution that young people make to our community," Patullo said.
"Dreamhouse is inclusive, endeavours to support and advance Australian writers and stories and to present theatre that challenges contemporary values.
Stories in the Dark runs 7.30pm Friday 31 March to 1 April (2pm and 7.30pm) at The Southern Peninsula Arts Centre, Rosebud. Bookings: www.trybooking.com/book/event?eid=268690
Dreamhouse details: dreamhousetc.com.au
First published in the Southern Peninsula News – 28 March 2017