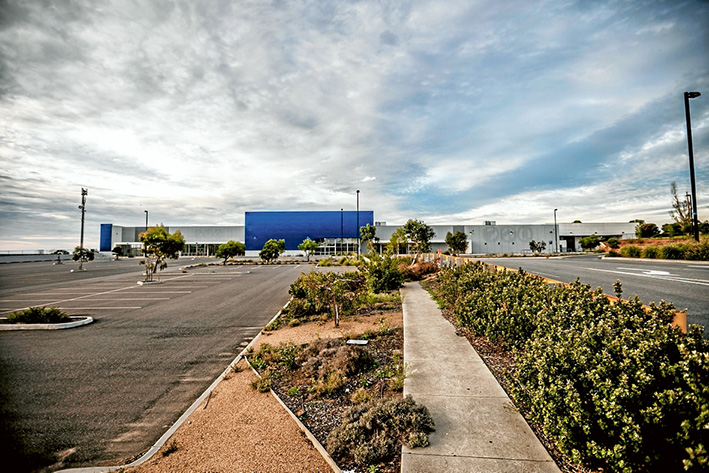 MYSTERY still surrounds the identity of the supermarket eyeing the site of the former Masters store on Mornington-Tyabb Rd, Mornington.
The $4 million development proposal lodged with Mornington Peninsula Shire's planning department has been "called in" by the mayor Bev Colomb and will be on the agenda for council's April public meeting.
A verdict on the mega-supermarket proposal was initially being left up to the shire's planning department until its potential impact on the town's retail landscape was realised.
The size of the proposed retail spaces and the "secrecy" surrounding the application has upset established traders.
Mornington Chamber of Commerce president Alice Dawkins said the town "does not need another major supermarket – especially out of the Main St shopping precinct".
"It will not be good for the town," she said.
"We feel the shire has not been open about this, which is a problem. It all seems quite secret."
Ms Dawkins said "proper planning is not being done if they are not saying what is going in there".
The shire's planning services executive manager David Bergin did not divulge the identity of the supermarket last week when asked for  comment: "The Mornington Masters site was publicly advertised on 6 December 2016 and the notice period concluded on 22 December 2016 and two objections have been received and one supporting submission.
"We received an application for repurposing the existing building as a supermarket, seven restricted retail premises (bulky goods stores) and a cafe. The application is currently under final assessment and a decision is likely to be made in the near future."
The application – which includes a 4250 square metre supermarket, six bulk stores ranging in size from 500-2000 square metres and a 100 square metre café – is "enormous", according to Ms Dawkins.
"People also have the right to know what's going on in the [smaller] 2000 square metre site," she said.
"A Costco or a department store would not be a problem, but a big new supermarket and a range of variety shops could not replicate or enhance what we already have here [in Main St]. "And traffic would become a big issue.
"I can't see the sense of building a satellite shopping centre. It will fragment the whole shopping experience and disturb the balance in the street.
"People on that side [of Mornington] would not need to cross Nepean Highway."