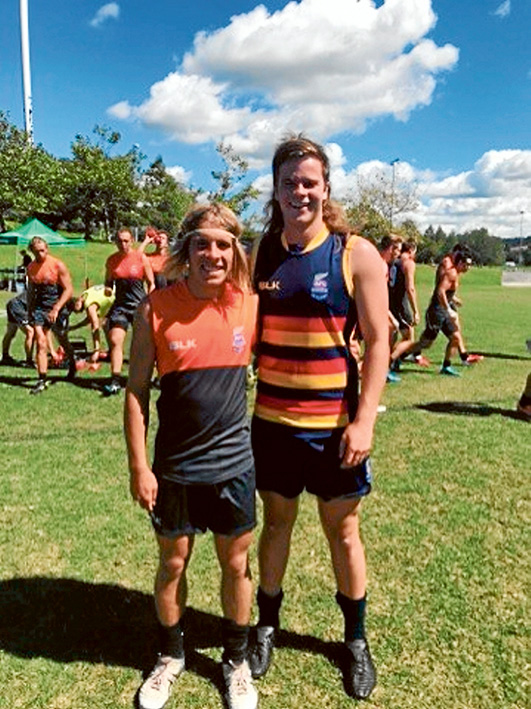 BELEURA Junior Football Club representatives Matty Mayne and Khyal Jacobson have excelled in the 2017 AFLNZ Premiership held in New Zealand.
AFLNZ approached the boys at the start of the year to participate in New Zealand's premier football league as part of a pilot program after their performance in the 2016 ANZAC Tour.
Since leaving on 2 March, the boys played three matches in the AFLNZ Premiership against some of the best senior players in the country.
They also worked as ambassadors for AFLNZ and have had continued support from the Mornington Peninsula Junior Football League.
Jacobson, 16, was a standout in his three matches where he consecutively made the Team of the Week side and was awarded the Best on Ground in his second match.
Mayne, who turned 17 on the trip, was also able to join the Team of the Week side in his second match after booting two goals for the Central Giants.
Khyal's father, Jake Jacobson, said the boys were lucky to have the experience and they really enjoyed themselves.
"They loved it. AFLNZ did an amazing job and the boys were able to really get involved with the Maori and Samoan culture as well as being able to play football with some of New Zealand's best," he said.
The Mornington Peninsula junior footballers were provided with the opportunity after being selected last year by AFL South East and the Beleura Football Club to play in an ANZAC Day competition against New Zealand's under-17's side.
While in New Zealand the boys also had the opportunity to run clinics at several primary and secondary schools to teach students the basics of AFL.
Khyal and Matty returned on the 20 March and are now gearing up for the season opener on the 23 April where they'll be playing for Beleura's under-17 side.