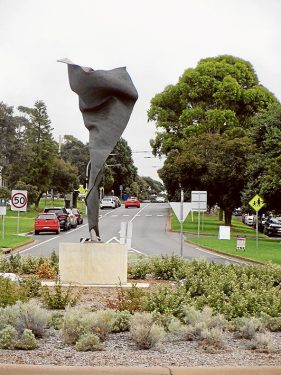 THE controversy that surrounded the erection of a sculpture at crossroads in the centre of Flinders may be about to be revived.
The work "I am" by Andrew Rodgers has been in place on the Cook and Wood streets roundabout for nearly two years and Mornington Peninsula Shire, its nominal owner, is about to run a survey to see if the public approves of the site.
The unveiling of the sculpture was part of Flinders' 150th celebrations, but its location was made subject to later public approval.
Rodgers "I am" works were described by Bhakthi Puvanenthiran in the Sydney Morning Herald of 21 February 2014 as being "a series of delicately balanced forms, unfurling from a narrow base and reaching up to 7.5 metres high. They are a metaphor for the relationship with the organic, the sanctity of the individual and the relationship between the inner and outer world".
The $100,000 "I am" at Flinders is 4.25 metres high. The money was raised through donations and the decision on buying the work made by Flinders Community Association.
Examples of Rodgers' works are shown in galleries throughout the world.
To have a say on the Flinders "I am" go to mornpen.vic.gov.au/haveyoursay between Friday 31 March and Friday 28 April.
Paper copies of the survey will be available at the shire's customer service centres. To view the locations visit mornpen.vic.gov.au/ouroffices.