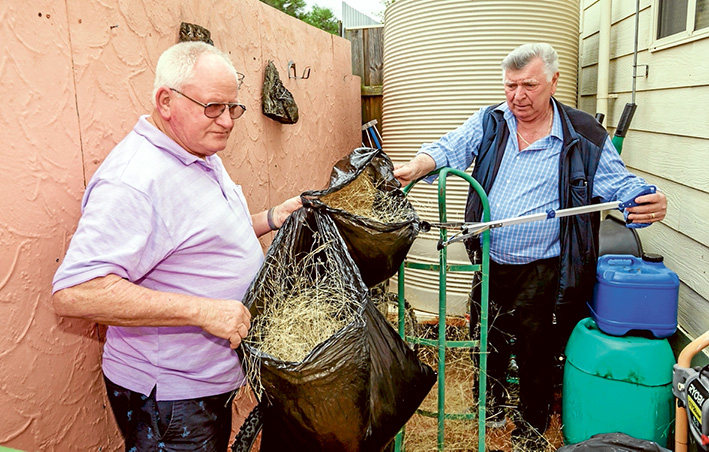 NO, it's not the dry plains of the old Wild West, but tumbleweeds are blowin' in the wind from the Hastings foreshore reserve.
And nearby residents are fed up with them.
Keith Jacobson, of Skinner St, says it is a "horrendous" problem with masses of grass seeds blowing into their properties from new plants put in by Mornington Peninsula Shire over the road.
"They are making a mess of our gardens," he said. "They are covering everything."
Nick and Julie DeMooy, of Salmon St, said they collected six shopping bags full of tumble weeds blown in from the foreshore on Saturday 18 March.
"That was our greeting in the morning when we got up," Ms DeMooy said.
"Nick spent four hours cleaning it up on the Saturday – which was only the backyard.
"He was feeling sick from cleaning up this disgusting mess and it has made him quite depressed.
"We both spent another two-and-a-half hours on Sunday cleaning up the front yard.
"We take pride in our property and there is still a spot in the backyard we have left for the shire to see.
"This problem has been going on for a few years and was reported in January 2016 but nothing has been done by the shire."
Mr DeMooy said a shire contractor on Friday cleaned up a fair bit "but it just kept blowing back. He said he was going to report it to the council and that's all we've heard".
"If you stand on our patio you'll see it all being blown down the road.
"We are worried our gardens will be infested with seeds. I've already pulled a couple out.