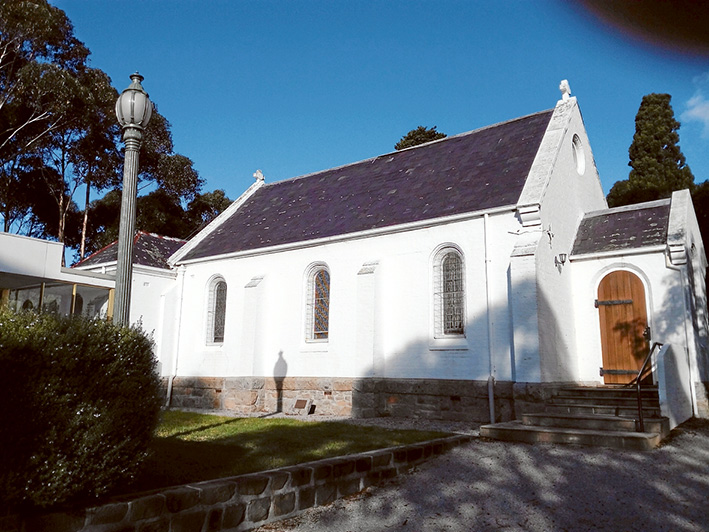 CHANGES to church service timetables at Mt Eliza are believed to be unsettling many long-time parishioners.
Up until now, Mt Eliza Anglicans worshipped at either St James the Less or across Nepean Highway at the Chapel of the Resurrection in the grounds of Peninsula Grammar.
However, changes introduced by the Rev Jennie Savage, of St James the Less, will see the current four Sunday morning services at the two churches reduced to two in the main church at St James the Less.
Palm Sunday, 9 April will mark the "final celebrations of thanksgiving and worship at each service" and, from Sunday 23 April, Sunday services will be held at 8.30am and 10.30am at St James the Less.
The combined congregations will also worship there during Holy Week: Maundy Thursday 7pm, Good Friday 10am, and Easter Sunday 10am.
The Rev Savage said there were several reasons for the changes.
"We currently have four Sunday services that are not sustainable in relation to clergy numbers and financial matters into the future," she said.
"We are not able to adequately staff so many services, with some clashing, and which are not allowing us to offer a good pastoral ministry.
"We are making major changes to set ourselves up for the future with the 8.30 and 10.30am services."
It is believed that some foundation members of the Chapel of the Resurrection at Peninsula Grammar are "broken hearted" at the changes, which will mean there is no more public worship there.
The Rev John Leaver, who started the Mt Eliza North parish in 1974, admitted he was "not happy" with the changes which were splitting the parish. He said the number of regular Sunday worshippers varied, but that it was usually around 50 people, with more at Easter and Christmas services.
His wife, Wendy, said some parishioners had told her it was "like breaking up a family".
"They are going down to only two services [on Sundays] which they think is an improvement and they hope people will be going across [Nepean Highway]," she said.
"Sunday week [Palm Sunday] will be an emotional week [when the service timetables change]."
The Rev Savage said she understood change was "always upsetting and confronting".
"A great many people are for the changes but there is also a sense of grief and loss being felt among others," she said.
She admitted the church may lose some parishioners. "We are making a new beginning. I hope they try to understand that it is a process that must be worked through."
The Rev Savage has been at St James the Less since September. She was formerly vicar at St Nicholas Anglican, Mordialloc, when similar service timetable changes were implemented.
"When I was invited [to Mt Eliza] by the committee – who are also members of the church – change was on the agenda; there is a need for it," she said.