SOCCER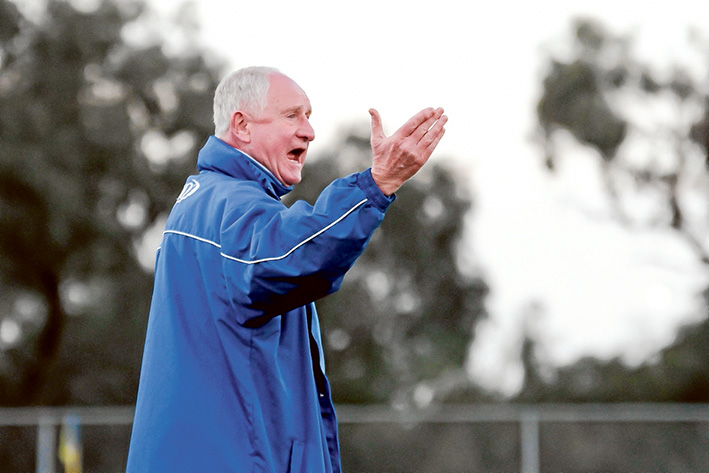 By Craig MacKenzie
GUS Macleod will coach his 400th league game for Langwarrin on Saturday when his side squares up to South Springvale at Warner Reserve.
A constant throughout Macleod's tenure has been the presence of assistant coach and close friend Neil Collyer.
They are in their 19th season at Lawton Park and oversee a heavily revamped senior squad attempting to win its first title since 2004.
Manchester-born central defender George Whiteoak, 21, arrives from the UK this week and becomes the 11th newcomer to this year's senior squad.
He is a friend of 23-year-old central defender Kieron Kenny who returned to England last month due to a family bereavement.
Whiteoak and Kenny were teammates at Macclesfield Town and more recently at Congleton Town but it is not known whether Kenny will return to Melbourne.
Another English import, Connor Belger, stole the show on Saturday and it was thanks to his stunning winner that Langy was able to maintain its State 1 South-East promotion push in a 2-1 come-from-behind win over visitor Morwell Pegasus.
The home crowd was stunned in the 28th minute when an Alpha Turay header gave Pegasus the lead.
Langy levelled in the 70th minute when a long ball by Speed fell in between substitute Nabil Mozaffaruddin and Alex Metcalfe with the latter striking a low shot past Andersen and into the far corner of the Pegasus goal.
The winner came in the 81st minute and was well worth the wait.
Belger controlled the ball just inside the Pegasus area on Langy's right, cut inside then curled his left-foot strike over Andersen and into the top far corner to make it 2-1.
Mornington staged a brave second half fightback to earn a 2-2 draw against St Kilda in their State 1 clash at Dallas Brooks Park on Saturday.
A long header forward allowed Steve McRae to nip in between Mornington central defensive duo Steve Elliott and Josh Valadon and slot the ball past advancing Mornington keeper Kris McEvoy after just 12 minutes and 10 minutes later a long ball downfield saw Valadon outmanoeuvred enabling a suspiciously offside McRae to effect a simple tap-in for his second.
Mornington hit back in the 70th minute when St Kilda's keeper charged off his line but failed to make contact with a long throw.
The ball eventually fell to Wayne Gordon on the right of the St Kilda area and his square ball was sidefooted home from close range by Ryan Paczkowski.
Four minutes later scores were level after Paczkowski dummied a Nathan Smith corner and Valadon diving low headed the ball home.
Mornington continued to press without finding the breakthrough and had to settle for a share of the spoils.
Mornington captain Simon Webster is expected to return from injury this week for the home clash with Manningham United and forward Simon Mur is another who could feature in the matchday squad.
Harry McCartney reports that a well-executed Paul McGuire free kick in the 80th minute earned Seaford United a 1-1 draw in Saturday night's away clash with Heatherton United.
The sides remained scoreless at the interval despite an entertaining first period in which Heatherton striker Ali Sanad and Seaford counterpart Dylan Waugh both looked dangerous.
Sanad's free kick 10 minutes into the second half eluded all but teammate Klehic Meldin at the back post and his header opened the scoring.
Just when the spark had gone out of the contest a handball just outside the area presented McGuire with his chance and his powerful strike cleared the defensive wall and sailed into the top corner for a stunning reply.
Defender Chris McKenna made his debut for State 2 South-East side Peninsula Strikers on Saturday but his team went down 3-2 at home to Berwick City.
Erkam Filiz gave Berwick the lead in the 35th minute but a stunning 30-metre strike from Strikers' midfielder Danny Brooks five minutes into the second half made it 1-1.
Berwick restored its lead six minutes later after Ruben Ichim capitalised on a mix-up between Troy Williams and Grant Davies and broke through to slot the ball past Strikers' keeper Colin McCormack.
Gary Davidson made it 3-1 in the 69th minute and Strikers' substitute Trevor Johnston capped an excellent interpassing move with a fine back post header in the 81st minute to make it 3-2.
A major loss for Strikers was the stomach muscle injury to star hitman Aziz Bayeh which forced him off in the second half and may sideline him for a fortnight.
Frankston Pines hopes to resolve the international clearance wrangle involving Mauritian stars Christopher L'Enclume and Cedric Permal in time for this weekend's away clash with Berwick City.
Pines suffered a 4-1 home loss on Saturday to Eltham Redbacks despite taking an early lead.
In the 15th minute a Sebastian Gueho cross from the left was met by Ben Millward whose header was tipped onto the bar by the Redbacks' keeper and Munib Mohamed finished off the rebound to make it 1-0 for Pines.
A couple of minutes later scores were tied after a superb looping header at the back post by Andrew McLean sent the ball into the top far corner.
Mili Muratbegovic's 41st minute strike gave Eltham the half-time lead and McLean's second in the 65th minute gave the visitors a two-goal buffer.
In the 88th minute Matty Davies lost possession and Bradley James was sent through and he slotted the ball home to complete the scoreline.
Pines' defender Graham Hill is back from suspension this week and the club is in talks with a central defender.
Skye United kicked off its 2017 State League 3 South-East campaign with an emphatic 6-2 away win over Dingley Stars on Saturday.
With the game rescheduled at Kingston Heath Soccer Complex, the hosts struck first in the 34th minute.
However Skye captain Mark O'Connor cancelled out the opener in the same minute, wrong footing the Dingley keeper and scoring from the edge of the area through a sea of bodies.
Parity didn't last long and a swift break saw Dingley regain its lead only minutes before half-time.
A five-goal second half barrage turned the game on its head and Skye's goalfest started in the 54th minute when a Daniel Attard flick on enabled Nick Theodore to run on and finish with a strike into the bottom corner.
In the 64th minute Endeavour United recruit Jason Nowakowski followed up O'Connor's free-kick which rattled the crossbar, nodding in from close range.
Two minutes later Attard made it four after Nowakowski's cutback found the lanky striker inside the area and he volleyed past the Dingley keeper from a tight angle.
Attard assisted substitutes Mohammad Elhassan and Sean Ellicott to add two late goals to complete the rout.
Rosebud Heart is in uncharted territory after losing consecutive league games but despite losing Saturday's State 4 South away clash 3-2 to Endeavour United its performance was a vast improvement on the previous week's derby loss to Baxter.
Heart went into this clash without Daniel Hodge, Adam Poole and Chris Sibson who were at a wedding and Hodge will have his tonsils removed on Friday so he'll miss next weekend's clash with Noble Park.
Endeavour made Heart pay for losing possession in midfield early in the first half when it broke forward quickly and Sebastian Goyenecha slotted the ball past advancing Heart keeper Sean Skelly.
Heart's star striker Dave Greening hit back in the 33rd minute when he flicked a Blake Hicks' cross past a defender then finished from a one-on-one with the Endeavour keeper.
Four minutes later Heart went in front when a Ryan Monk volley could only be parried and Greening hammered the ball into the roof of the net.
But scores were level in the 39th minute when Heart again lost possession in midfield and a Dalveer Jandu strike made it 2-2.
Four minutes into the second stanza an excellent counter down the right and a cross was finished with a close range header by Ifelowoa Ogidan for the decisive goal.
On a positive note Italian midfielder Marco Cannella played half a game in the reserves and came off the bench in the second half of the senior game.
Baxter drew 2-2 at home in its State 4 South fixture against Noble Park last weekend with Jake Kidder scoring Baxter's goals.
Somerville Eagles travelled to West Gippsland on Saturday only to go down 2-1 to Drouin Dragons in their State 5 South clash.
Eagles took a 1-0 lead into the break thanks to a 32nd-minute opener from Jarryd Lymer.
Brett Young impressed in his senior debut and the youngster drove the ball across the face of the Dragons' goal for Lymer's simple tap-in.
The home team hit back in the second half with goals to Mark Rossi and Daniel Patchett to seal the Eagles' fate.
"We dominated for the first 45 minutes and could easily have gone in at half-time three or four goals up but we capitulated in the second half," said Eagles' coach Neil Herd.
Herd has only had 11 senior players at his disposal for the opening two rounds but expects to have a matchday squad of 15 to face Casey Panthers next weekend and there's a chance that he could bring two more debutants into the starting 11.
This weekend's games:
FRIDAY, 8.30pm: Doncaster Rovers v Peninsula Strikers (Anderson Park).
SATURDAY, 3pm: Mornington v Manningham Utd Blues (Dallas Brooks Park), Sth Springvale v Langwarrin (Warner Reserve), Doveton v Seaford Utd (Waratah Reserve), Skye Utd v Brighton (Skye Recreational Reserve), Noble Park v Rosebud Heart (Norman Luth Reserve), Bayside Argonauts v Baxter (Shipston Reserve), Somerville Eagles v Casey Panthers (Somerville Secondary College).
SATURDAY, 7pm: Berwick City v Frankston Pines (Jack Thomas Reserve).