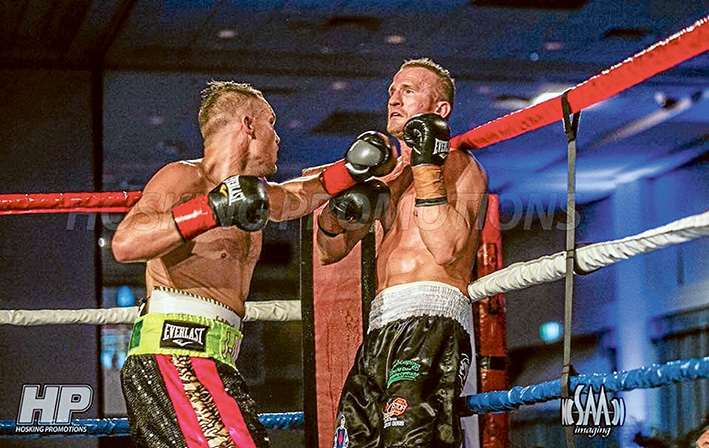 RYE super-boxer Jayde Mitchell "stepped on the gas" in the sixth round to overpower rival Les Sherrington at the popular Punches at the Park III event on Saturday 18 March.
Mitchell stormed to a TKO win in the 10 rounder at Melbourne Park Function Centre to retain the interim WBA Oceania title.
Hundreds of supporters from the Mornington Peninsula gave their man a standing ovation – and even tears – after his convincing win over his bigger rival.
"The peninsula blew the roof off the function centre and I can't thank everyone enough who came out or tuned in and watched this past Saturday night," Mitchell said on social media.
"[The win] was the culmination of all our hard work coming together and I feel we put our stamp on our recent accolades. I took on a far more experienced opponent who came to win.
"There were some great exchanges until I found the shots, stepped on the gas and got the finish."
Mitchell singled out his strength and conditioning coach Mitch Cook for praise afterwards. "We had an amazing preparation in which I lost 21kg from the second week of January without any injuries and still built strength which showed in this fight."
Mitchell's next fight is on Saturday 22 April at the Melbourne Pavilion in Flemington. "I am super excited to be fighting on the same card as former world champion Sam 'King' Soliman as he makes his return to Melbourne," he said.
"Also returning is Jake Carr and great undercard featuring Joel Painter and former Richmond Football Club player Kayne Pettifer."
First published in the Southern Peninsula News – 4 April 2017