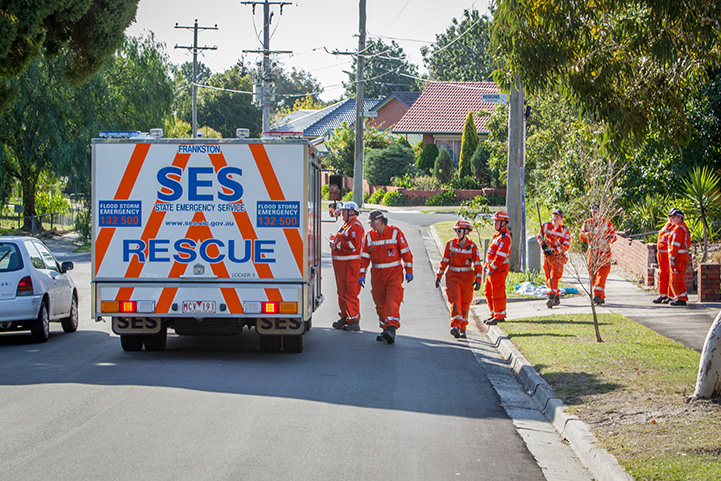 A MORNINGTON man is expected to be charged with home invasion and aggravated burglary on Wednesday afternoon after a  break-in to a Frankston North house, 3.45am, yesterday (Tuesday 4 April).
Detective Senior Constable Paul Roberts, of Frankston CIU, said the man, 36, was taken to Frankston Hospital after allegedly breaking into a house occupied by a woman in her 60s, her three sons aged 25, 30 and 37, and the pregnant girlfriend of one of the sons.
Detective Roberts said the man, said to be armed with a hammer and a knife, unsuccessfully tried to force a security door at the property.  A rear bedroom window was then smashed.
One of the sons and his girlfriend, who is eight months pregnant, were sleeping in the room.
The couple fled into the hallway while the man barricaded himself in their bedroom. Two other sons then went into the backyard and armed themselves with a wheel brace and chair just as the man was climbing out of the bedroom window.
In a scuffle, the man allegedly lunged at one of the sons and the intruder may have been cut with the knife. He managed to make his way over a locked gate where he was confronted by another son and another scuffle ensued.
The man fought his way free and ran off towards Frankston-Dandenong Rd, leaving a trail of blood from cuts to his head and upper body.
There, he knocked on the door of a house in which Detective Roberts said a "Good Samaritan" realised the extent of his injuries and the need for urgent treatment and drove him to Frankston Hospital at 4.20am.
Detectives arrived soon after to arrest the man and place a police guard at his hospital room. He is expected to be released from hospital and interviewed on Wednesday afternoon.
Detective Roberts said he would apply to have the man remanded in custody once charges were laid and he appeared before a magistrate.
Detective Roberts said the man and the family members did not know each other and ​the intruder​ allegedly only ​took a pair of shoes and a bottle of cordial before leaving the house.​
"The occupants were both extremely lucky and brave in the circumstances," Detective Roberts said.
"It was fortunate they didn't sustain injuries and clearly the offender came off second best."