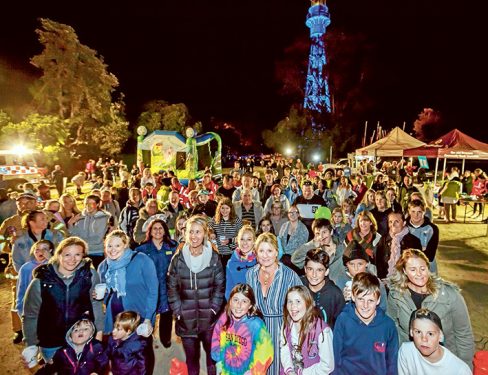 McCRAE Lighthouse burst into a sea of light last Sunday 2 April to mark World Autism Day.
Organised by Bianca Appleford from Light Up Autism Foundation, over 300 people gathered to witness the illuminating of the lighthouse.
"This was a great team effort," said Mrs Appleford.
"I'd like to thank McCrae and District Lions Club, Bendigo Bank (Rye, Rosebud and Dromana), Dromana Fire Brigade and Sorrento SES, and all our supporters that come out on the night."
Light Up Autism Foundation was founded five years ago by Mrs Appleford after she saw first hand the need  for assistance programs in primary schools.
The foundation funds ABA (applied behaviour analysis) programs in Boneo Primary School and Rye Primary School.
Mrs Appleford's community contribution was recognised earlier this year, as she was awarded the 2017 Mornington Peninsula Shire's "Citizen of the Year" award.
"It was a huge honour. I take great satisfaction in the results we have achieved to date with Light Up Autism Foundation.
"Most exciting has been that , due to the program we fund, we have had three kids graduate out of primary school and into the mainstream secondary system".
The lighthouse was bathed in blue first, and then red, yellow, blue and green to represent the diversity and complexity of the autism spectrum, while singer Madison Bailey entertained the crowd with a rendition of True Colours.
Kids enjoyed activities including music, a jumping castle, and face painting.
The lighthouse stayed illuminated for the entire week.
Light Up Autism Foundation are planning a "colour run" on Sunday 22 October to continue funding their work.
For more information on Light Up Autism Foundation go to www.lightupautism.org.au
First published in the Southern Peninsula News – 11 April 2017