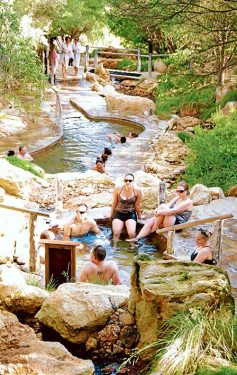 ONE of the main Mornington Peninsula tourist drawcards has lost an estimated $40,000 in an on-line ticketing scam.
Peninsula Hot Springs, at Fingal, is one of at least nine high profile Victorian venues targeted by fraudsters using the Chinese social media forum WeChat, which is used by an estimated 800 million people.
The springs' general manager Brook Ramage said the company may have lost the $40,000 in the scam over the past 12 months "plus lost business and other factors".
"It's hard to tell the exact amount, that's the big question," he said.
The scam revolves around fraudsters using stolen credit cards to buy tickets to various attractions and selling them through WeChat.
Once banks are notified that a card has been stolen, they compel the tourist operator to refund the original cost of the ticket, plus up to $70 in fees. An extra sting in the tale is that the ticket is still valid for the tourist to use.
So, the venue has to refund the cost of the ticket and pay a fee while providing a service for free.
Chinese tourists make up a large proportion of visitors to the venue, which was the first natural hot springs and day spa centre in Victoria.
Victorian Chamber of Commerce and Industry CEO Mark Stone said on ABC Radio that the scam came to light two months ago and was still affecting the bottom lines of tourist venues around Australia.
He said the complex nature of the cyber security breach meant several operators had been hit without knowing it – and that police were having trouble reining in scammers.
He said nine tourist operators had lost $400,000 but that the figure "was probably much more as many had been caught out".
Another major Melbourne tourist attraction said businesses across the country should be checking their recent financial records to determine whether there had been a recent spike in credit card "charge backs".
Mr Ramage said Peninsula Hot Springs was urging the National Australia Bank to adopt tighter security measures. Other strategies include lobbying WeChat to ensure its ticket buyers and resellers are "the real deal".
Mr Ramage estimates it would cost $1 million to warn all WeChat users of the scam. Support is also being sought from the Chinese government.
First published in the Southern Peninsula News – 11 April 2017