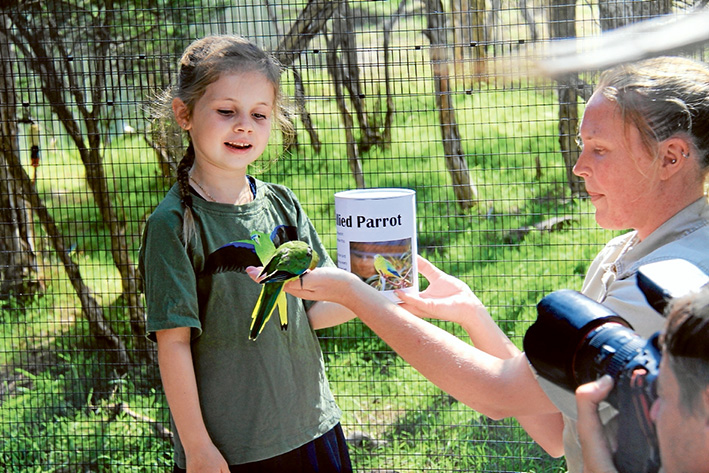 SIX-year-old Abigail Court has become something of an orange-bellied parrot expert since learning of how close they are to extinction.
The youngster was taken to Moonlit Sanctuary, Pearcedale, by her mother Rebecca soon after the opening last year of a breeding aviary designed to help increase the number of orange-bellied parrots.
The species is clinging onto survival with Zoos Victoria – which also runs a breeding program at Healesville Sanctuary – estimating there could be as few as 50 birds left in the wild.
The 200mm long mainly green and yellow parrots are larger than budgerigars and only breed at one location in Tasmania before flying across Bass Strait to winter on the mainland, including on the shores of Western Port.
Experts fear the orange-bellied parrots will be extinct in the wild within three to five years.
Since finding out about the parrots' dire straits Abigail, of Boronia, has collected more than $1000 towards helping the breeding program at Moonlit Sanctuary.
The money was raised through talks she has given to girl guides, her primary school class, Ferntree Gully Salvation Army and after telling her story to family and friends.
The orange-bellied breeding centre at the 10-heactare Moonlit Sanctuary can house 40 birds and breed up to 100 birds a year.
The off-the-ground aviaries are designed as a quarantine facility to prevent the spread of beak and feather disease, which can affect these parrots in the wild, and has two 12 metre long free-flight aviaries for non-breeding seasons.
When opening the centre in September 2016 sanctuary director Michael Johnson described it as "a huge step towards growing the captive population of orange-bellied parrots for release into the wild".
He said partnerships between governments, community groups, zoos, and the orange-bellied parrot recovery team "is key to the survival of this critically endangered species".
The sanctuary has been involved in the orange-bellied parrot program since 2013 and has committed to spending $500,000 over the next 10 years to run the new breeding centre.
Zoos Victoria's acting general manager of threatened species, Dr Michael Magrath said the aviaries provided a "significant boost" to the parrot's captive breeding program.
The centre has a viewing platform for visitors, an educational space to learn about the species, and a nest cam to observe the breeding behaviours of orange-bellied parrots.
Moonlit Sanctuary also contributes to recovery and breeding programs for regent honeyeaters, bush stone-curlews and spot-tailed quolls.
First published in the Western Port News – 11 April 2017