SOCCER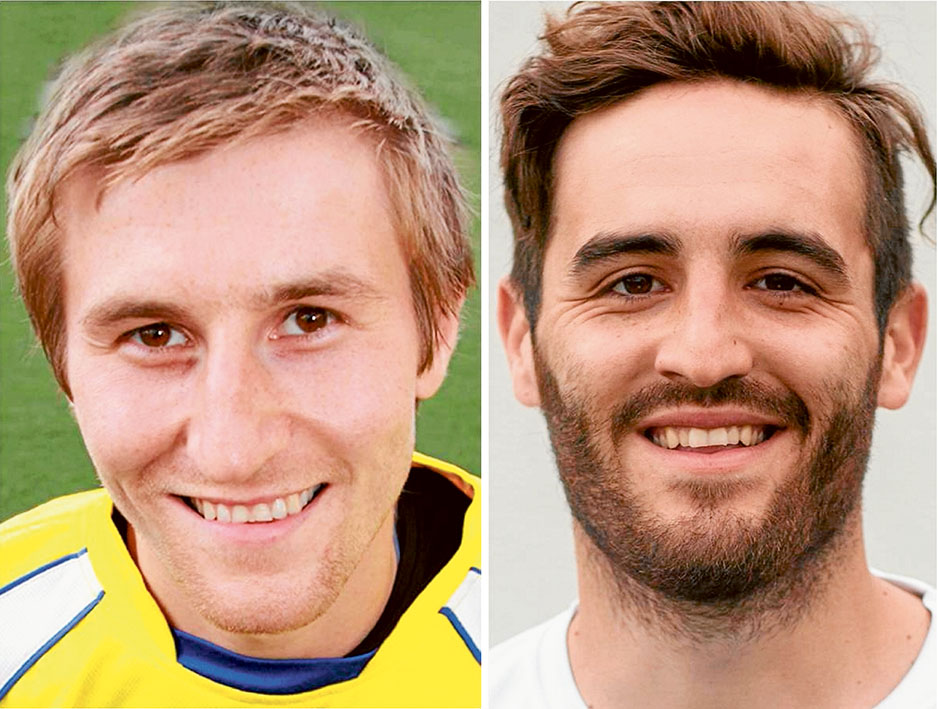 By Craig MacKenzie
WHILE Mornington has been forced to call off the Josh Hine deal Skye United was welcoming the arrival of English recruit Jacob Scotte-Hatherly.
Skye United officials greeted the 22-year-old midfielder at Melbourne Airport last Wednesday night and are excited about what he could bring to the State 3 South-East side.
Scotte-Hatherly's last club was Bovey Tracey AFC in Division 1 East of the South West Peninsula League and the attacking midfielder from Newton Abbot in South Devon has won two player-of-the-match awards in just nine appearances this season after joining the club in late December.
He has also played for Western League Premier Division club Buckland Athletic and has had a four-year stint with the University of Jamestown in North Dakota.
While in the US he also played with Wisconsin-based Maddison 56ers and Little Rock Rangers from Arkansas.
Skye United followed in the footsteps of Peninsula Strikers and Casey Comets by contacting football agency Soccer Smart Ltd, which holds trials in the UK, Europe and the US for players wanting to play overseas.
"We identified a gap in our playing group and we felt that the local market was significantly out of our financial reach to be honest," said Skye vice-president Stuart Lawrence.
"We'd heard about other clubs using Soccer Smart plus the company targets clubs anyway and sends speculative emails so when we got one of them I flicked it over to Billy (Armour, senior coach) and asked him if we should look at this option so it all started from there."
The video evidence suggests that Scotte-Hatherly has a fine first touch and good passing skills. He also is a set-piece specialist.
He is expected to line up alongside Marcus Collier in Saturday's home fixture against Middle Park.
Meanwhile Salford City striker Hine has failed in his bid to be granted a work visa and has also been denied a holiday visa.
The Englishman had been courted by Mornington for months and the club had high hopes of him forming a lethal partnership up front with Ryan Paczkowski.
"We're keeping our options open and we're having a look for players in different places now," said Mornington head coach Adam Jamieson.
"We'll probably bring in two or three and release two or three."
Scottish midfielder Craig Anderson, 28, is firmly on Baxter's radar after star striker Mark Pagliarulo was contacted by his former coach at Edinburgh City and told that Anderson is already in Melbourne.
Whether or not Anderson wants to play at Baxter remains to be seen but his CV suggests that he would be one of the stars of State 4 South if he did sign and clubs in higher leagues are already showing interest.
Anderson has played for Montrose, Forfar Athletic, Berwick Rangers, Civil Service Strollers, Stenhousemuir and Craigroyston and has recently finished a second spell with Whitehill Welfare in the Lowland League.
Baxter had its sights set on signing former Langwarrin striker Mikey Turner who quit Peninsula Strikers recently.
But Baxter lost out to arch rival Rosebud Heart after Turner failed to turn up at Baxter training last Tuesday and scored for Heart in a practice match two days later.
"Mikey agreed to join us last week and now it's just a process of getting Strikers to deregister him so that we can register him before Saturday's game," said Heart head coach Scott Morrison.
"He's going to form a good combination up front with Dave Greening."
Turner had also attracted the interest of Skye United.
The match of the round next weekend is the derby showdown between Langwarrin and Casey Comets at Lawton Park on Saturday afternoon.
It was confirmed last week that Langwarrin's English import Kieron Kenny who returned to the UK last month for family reasons is expected back within the next fortnight and Nick Thorogood is also expected to be available within the same timeframe.
Kenny's former central defensive partner at English club Congleton Town, big George Whiteoak, played for Langy in a practice match last Tuesday night against Berwick City and is likely to be on the bench against Comets.
"It's not going to be easy and Jamie (Skelly, Comets gaffer) won't be coming down here to give away three points because he's always got something to prove against us," said Langy head coach Gus Macleod.
Skelly is yet to decide whether or not to use both English striker Ryan Hughes and Canadian teammate Allando Matheson in the starting line-up.
If he uses both strikers it's likely that one will play in a wide role but Skelly also has the option of using conventional wingers with just one big man through the middle.
The game is a personal challenge for former Langy stars Alex van Heerwarden and Ray Markley and Skelly expects both players to stand up and be counted.
"I guess Alex and Ray will have something to prove in that they want to go back and show that as players they have progressed since they've been there and it's a massive incentive for them to do well against a Langy side that sits on top of the league," said Skelly.
Marce Janneker remains sidelined due to an ankle injury.
Comets are close to signing a current NPL central midfielder but if they negotiate his release he won't be available until May.
Social media bragging rights are up for grabs when Peninsula Strikers host Doveton in their State 2 South-East clash at Centenary Park on Saturday.
Strikers' boss Craig Lewis and Doveton goalkeeper Stuart Webster are regular sparring partners on Facebook where the latter is a serial provocateur.
Webster played down the recent capture of former Scottish professional Ryan Stevenson saying that the winless Strikers needed more than the former Hearts star to turn their season around.
That may come back to haunt the cocky keeper as Stevenson was expected to arrive this week in time to face the Doves.
Lewis was enthusiastic about Stevenson's signing and pointed to the positive impact it already had on the club.
"Since the story about Ryan went all over social media and the Scottish media we've had players enquiring about joining us including a 21-year-old from Cowdenbeath, another boy from Kirkintilloch Rob Roy and an NPL player," said Lewis.
Teenage midfielder Emmanuel Brima signed for Strikers last week and the former Bentleigh Greens midfielder will come straight into the matchday squad on Saturday.
Strikers are also keeping a close eye on any player movement at Mornington.
The wait for an international clearance is over for Frankston Pines defender Cedric Permal whose Mauritian club Cercle de Joachim has cleared him in time to face Doncaster Rovers at Monterey Reserve on Saturday.
Permal, 25, has been capped 12 times by Mauritius.
But Mauritian international teammate Christopher L'Enclume was waiting to be cleared as we went to press.
As soon as 26-year-old striker L'Enclume is cleared Pines will focus on bringing over attacking midfielder Fabrice Pithia and striker Dwayne Diamond-Heerah.
Two other Mauritian internationals, striker Adrien Botlar and left back or defensive midfielder Damien Balisson are expected in July.
This weekend's games:
SATURDAY, 3pm: Mornington v Clifton Hill (Dallas Brooks Park), Langwarrin v Casey Comets (Lawton Park), Peninsula Strikers v Doveton (Centenary Park), Frankston Pines v Doncaster Rovers (Monterey Reserve), Skye Utd v Middle Park (Skye Recreation Reserve), Baxter v Dandenong Sth (Baxter Park), Rosebud Heart v Bayside Argonauts (Truemans Road Recreation Reserve), Chelsea v Somerville Eagles (Edithvale Recreation Reserve).
SUNDAY, 3pm: Seaford Utd v Nth Caulfield (North Seaford Reserve).