PENINSULA LEAGUE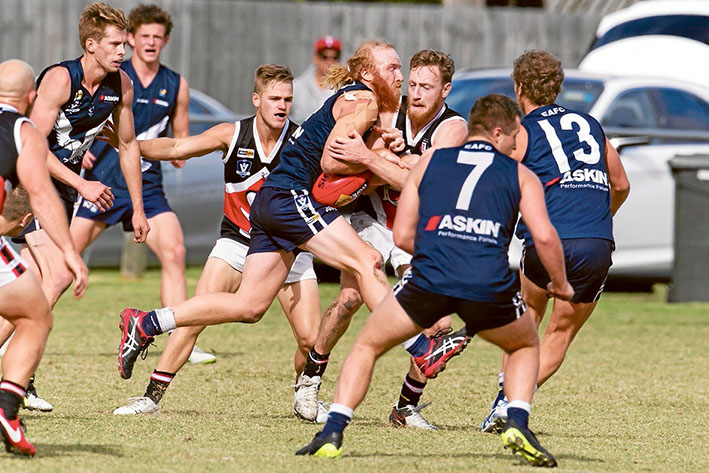 FRANKSTON YCW got the chocolates on Good Friday against Mt Eliza and once again stamped themselves as the team to beat in Peninsula Division.
Billed as the grand final replay, the Stonecats completely controlled the game for all but five minutes in the second quarter when Mt Eliza kicked three unanswered goals to open up a 19 point break.
By the end of the first term, the Redlegs didn't add to their onslaught while the Stonecats dominated and booted 4.8 to lead by 12 points at the big break.
The margin was 12 points at three quarter time before YCW broke the shackles and went on to record a 10.14 (74) to 6.8 (44) victory.
The win meant that after two rounds, YCW and Pines are the only two sides with two wins. Only Chelsea and Langwarrin are without at least one win, while six teams have one win and one loss. It shows the evenness of the competition in 2017.
The Stonecats went into the match with six of their VFL-listed players, including Lachy Wallace and Matt LaFontaine (Collingwood), Anthony Bruhn and Anthony Barry (Footscray), BJ Credlin (Richmond) and Ryan Santon (Sandringham).
On the other side of the ledger, they were missing Christian Ongarello (hamstring), Michael Debenham, Sam Widdowson, Ricky Morris and David Bodley.
Coach Wayne Capp told the RPP Footy Show on Saturday morning that the club expected to see a bit of Wallace, LaFontaine, Bruhn, Santon and Credlin throughout the season.
"When the AFL lists are strong, that means the VFL lists are strong too of AFL-listed players, so we might get those five more often than not," Capp said.
"Bundy is a two-time premiership player at Footscray so I doubt we'll see a lot of him, while (other VFL listed players) Lachy Williams and Jake Lovett will spend most of the year in the VFL," Capp said.
Mt Eliza went into the match without Grant Goodall, Aaron Dunne, Karl Lombardozzi and Darren Booth, while Shaun Knott dominated in the reserves. Rohan Heasley also went down with a hamstring injury early in the match.
Goodall was a massive loss, leaving Lillie and an undersized James Anwyl to do battle with Ash Eames and monster kid Macklin Raine, who stands 203cm and is pushing 120kgs.
BJ Credlin carved up Justin Van Unen, keeping him goalless and under a handful of touches. Shane Tennant was outstanding for the Redlegs but he looked proppy after injuring his knee.
In a team full of stars, YCW defender Riley Hodson goes under the radar but the kid is a jet, while Luke Paynter is another emerging star for the Stonecats.
Fin Bayne was a standout for the Redlegs and skipper Sam Gill and Jay Neratzoglou were resilient in defence.
Langwarrin has kicked just seven goals in two matches after again being restricted to just two goals against Pines on Saturday.
The Kangaroos booted 1.5 to Pines' 2.3 in the opening term before running out of steam and being held to 1.2 in three quarters as Pines ran out 13.20 (98) to 2.7 (19) winners.
Aaron Edwards booted five goals and Shane Waterstone three for the Pythons while Lachy Marshall played his best game for his new club.
Blake Harkness, Shane Paterson and Sean Herdman were the best of the Kangas.
Mornington and Karingal played an entertaining game at Frankston Park, the Doggies getting the job done 14.13 (97) to 11.7 (73).
Central Highlands recruit Peter McGettigan booted four goals for the Dogs and Eastern Football League recruit Xavier Barry-Murphy dominated for the second week in a row. Brad Harvey and Joel Miller were also outstanding contributors for the Dogs.
Although the Dogs opened up a handsome lead on a number of occasions, the Bulls just never went away.
Jake Kelly was clearly the Bulls best with four goals while Duncan Proud and Luke Van Raay showed tremendous leadership. After being put through unwarranted and never seen before grief from Devon Meadows FC (three clearance knock-backs and two meetings with the committee), Steve Mihevc was finally cleared last Monday night and celebrated with a strong performance in his new colours.
Seaford had 37 scoring shots against Chelsea on Saturday at Miles Reserves and won 19.18 (132) to 7.8 (50).
Tom Shaw booted four goals and a further 10 players contributed on the scoreboard while Kyle Matthews, Nick Shannon and Rourke Fischer shone.
Simon Mitchelhill was again Chelsea's best, while Daly Shannon and Jack Francis were strong performers also.
Bonbeach controlled most of the match against Edithvale-Aspendale, winning 10.11 (71) to 6.12 (48).
The Sharks led by five points at the first change before extending that lead to 19 at half time and 21 at three quarter time.
Trent Dennis-Lane found his rhythm and finished with four goals for the Sharks while Jackson Casey, Owen Hulet and Dylan Jones were again among the best.
Brent Bowden, Craig Wray and Timmy Mannix were the best of the Eagles.