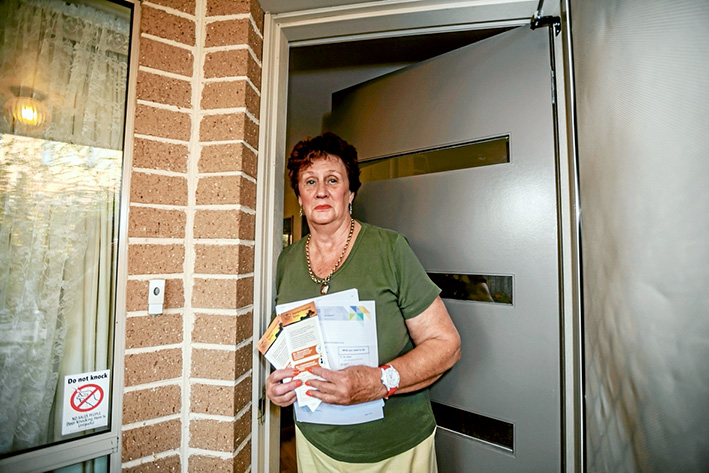 A SURPRISE visit by an interviewer from the Australian Bureau of Statistics last week made a Rosebud resident feel uneasy.
The interviewer appeared at Helen Turner's unit in Rosebud, saying she was there to conduct a personal survey, supposedly after Ms Turner had been sent a letter alerting her to an impending visit.
Ms Turner says she did not receive notification and took umbrage at the officer asking what she regarded as "personal" questions.
"I was originally told that the data would assist in improving education, transport, hospital and aged care," Ms Turner said.
"When the actual interview commenced there was no reference to any of these subjects, but rather a few questions about my personal life, living conditions, income, if I was able to look after myself and so on.   
"Then the officer said: Now that we have that out of the way I need to ask you these questions' and launched into questions on sexual harassment when I was a teenager, past and present life partners, childhood experiences, intervention orders and the like.
"I don't know how these come under the heading Important Household Survey and I think many others may feel the same."
The Australian Bureau of Statistics' website says household surveys by authorised interviewers are legitimate and compulsory.
"We collect, compile, analyse and disseminate information from individuals, households and businesses on a wide range of social, environmental and economic matters," it states.
"The statistics are then used by governments, business, industry, academics and others seeking to understand Australian society and the economy."
Interviewers authorised under the Census and Statistics Act 1905 collect information under an agreement which penalises those who refuse to participate. The penalty, as explained to an astonished Ms Turner, is $180 a day until the information is provided.
"I thought I could have refused, but no, so I arranged to have the interview at the library," she said.
"I asked for a secure room and lucky I did because it beggars belief that I would be asked these questions in public, such as at a cafe.
"They unlocked a few worms in my brain that took me back 30 years and I don't know if that sort of information should be trawled through.
"I was taken aback by the whole process: there was no forewarning, with all my answers going into her computer's database.
"If they really want those sorts of statistics they should go through the courts."
The interviewer reportedly told Ms Turner that three other nearby residents had complained about not receiving warning letters from Australia Post and, to confirm this, a letter arrived in Ms Turner's mailbox on Wednesday – three days late.
Ms Turner called Flinders MP Greg Hunt to verify the authenticity of the surveys, which he did. She then called the ABS headquarters in Geelong and had the process explained to her.
"My concern was that these people were just randomly knocking on doors," she said. "I would be fascinated to know how many others were approached."
ABS assistant director of media Brian Semmens said The News could quote a spokesman as saying the survey did not collect information on a participant's sexual experiences or partners.
"It seeks information on experiences of assaults or threat of some form of violence and other forms of abuse or harassment by [anyone]," he quoted the spokesperson as saying.
"[Few] respondents will respond to having experienced any of these, and the experiences of the elderly are just as important as those who are younger."
The questionnaire collected specific information on particular topics identified as key data requirements. "Which questions are asked regarding details of experiences may change depending on the responses to other questions.
"All questions are scripted, and interviewers stick carefully to scripted wording as directed by the questionnaire and cannot pick and choose questions.
"For this survey, the only compulsory questions relate to general demographics, feelings of safety, social connection and general health.
"The interviewers make it clear that the remainder of the survey, collecting information on more sensitive topics, is voluntary."
Respondents also had the option of answering questions directly on the interviewer's laptop "without intervention by the interviewer".
The ABS says selected households are notified by mail about two weeks before a visit. "Occasionally, due to mail delivery issues, the first time people become aware … is when the interviewer arrives."
First published in the Southern Peninsula News – 18 April 2017