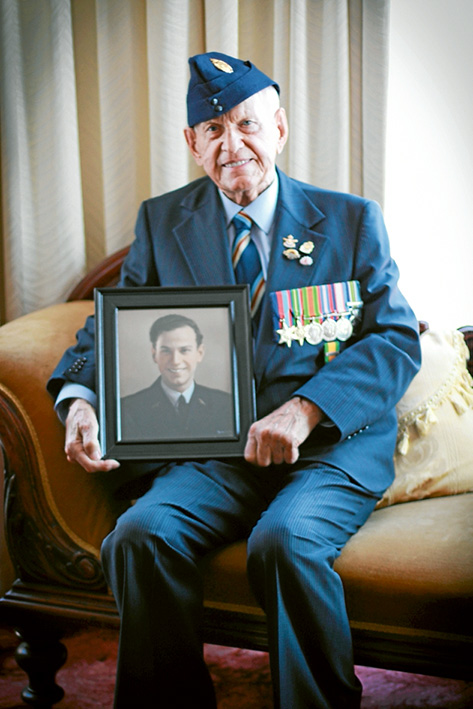 ALAN Day, pictured, was last week again preparing to join the ranks of veterans being driven around the MCG before the traditional Anzac Day clash between Collingwood and Essendon.
It is the second time that he has been invited to be a passenger aboard the cavalcade of cars once reserved for veterans of the Gallipoli landings.
However, with survivours of that campaign long since gone, the role has fallen to survivors of other landings.
In Mr Day's case it was Balikpapan on the east coast of Borneo when the Australian Seventh Division struck on 1 July, 1945; he represents all men who served in that battle.
Alan Day was born in Ivanhoe in February, 1922 and when 18 he attended an RAAF training course at Bradfield Park in NSW with the aim of becoming a member of aircrew.
During the course he was injured in a horse riding accident and had to withdraw. Although disappointed, it turned out to be a lucky break for Mr Day as the other 19 members of his course were posted overseas and none returned.
The mishap led him to become a medical orderly and by the age of 19 he was in Darwin where he served from 1942-5. During this time he survived more than 50 Japanese air raids, including the massive attack on 19 February, 1942 when the town was attacked by 242 aircraft.
Mr Day also served on Morotai and, as the tide turned against the Japanese; he reenlisted in the army which was short of manpower for the planned landing at Balikpapan.
He recently returned from Adelaide where he attended the 75th memorial service for 18 squadron NEI-RAAF Forces Association which he served as president, 1994-95. Mr Day is now president of the Darwin Defenders Association (Melbourne chapter) and in this capacity he was invited to Darwin in February to commemorate the Bombing of Darwin day.
Although he has retained strong links with Ivanhoe RSL of which he is a life member and the oldest surviving member, Mr Day has contributed much to the RSL and Legacy since his move to Mornington 15 years ago. Although many of the veterans have passed on, he says there are 1500 war widows on the Mornington Peninsula that Legacy cares for.
Before coming to Mornington Mr Day was awarded the medal of St John of Jerusalem for his service to war veterans and war widows.