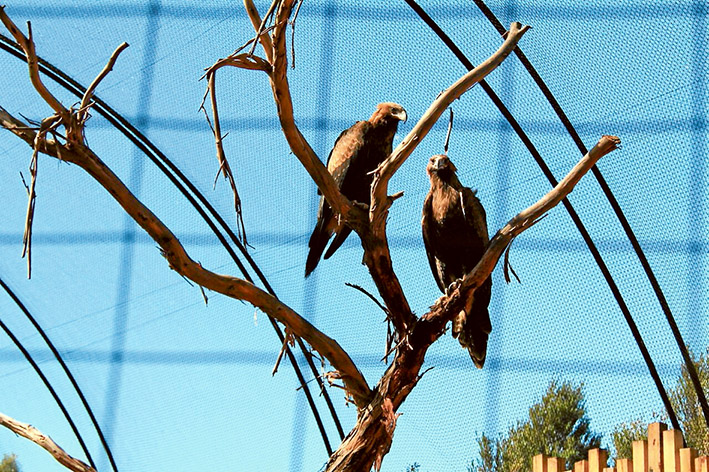 A PAIR of wedge-tailed eagles has moved into Pearcedale and, with the birds' known longevity, they are almost certain to be long term residents.
The eagles are living in a specially-constructed aviary at Moonlit Sanctuary Wildlife Conservation Park and cannot be released into the wild because of being domesticated while under treatment for injury.
The 30-metre aviary is based on a raptor rehabilitation design that is free of any wire and includes slatted wooden sides and a seven-metre high dome with double netting, to ensure the huge birds – Australia's largest birds of prey – do not injure themselves and have room to fly.
"It's unfortunate the two Wedge-tailed Eagles are not able to be released into the wild as they wouldn't be able to fend for themselves based on their upbringing and injuries," Sanctuary director Michael Johnson said.
"The male wedgie was found severely underweight and begging for food on a farmer's property, while the female was injured in an accident and required surgery to amputate two talons."
Mr Johnson said he hoped the aviary will "become a love nest if the two breed".
He said about 25 per cent of the 60 species of animals and birds at the sanctuary are endangered or threatened with extinction with the park having a major role in conservation and breeding programs.