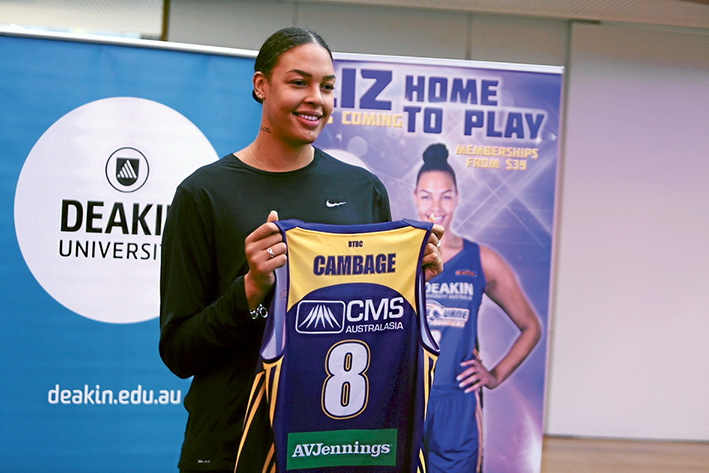 By Jarrod Potter
MELBOURNE Boomers unveiled its Women's National Basketball League (WNBL) centre-piece on Thursday after bringing Liz Cambage home. 
Cambage, 25, originally from Mt Eliza, will lace up for her first home season in five years in the upcoming 2017/18 WNBL season.
The 25-year-old centre won a bronze medal at the 2012 London Olympics with the Australian Opals, has played in the Women's National Basketball Association for the Tulsa Shock and has also had several other professional achievements throughout China.
After a year of soul-searching and contemplation spent away from the court, Cambage returns refreshed and ready to take her place in the Boomers' front-court.
"I really needed a break, especially after Rio," Cambage said.
"I needed a mental and physical break and I'm so lucky that I get to come home to Melbourne.
"I thought I was going to retire after Rio – I definitely hadn't achieved everything that I could but I got to a point where I felt like I wasn't going anywhere.
"So having this year off has really made me see that I love basketball, I do love playing basketball but there are other things that are important to me as well.
"(The Boomers were) my family when I left the AIS and it was my first team in the WNBL and to be gone for six years and come back to Bulleen becoming the Melbourne Boomers and still have the key values – family and the youth and just so together… it means a lot."
Cambage is no stranger to the Deakin Melbourne Boomers; as a 19-year-old, she was a key player when the team won the 2010/11 WNBL championship.
She attempted a return to Australian shores, but snapped her Achilles tendon, leaving her unable to join in the 2014/15 season.
But that time garnered her perspective as she continues to evolve as a player and a person. Therein lies the great amalgam of work-life she can experience at Melbourne.
"Three years ago I did my Achilles and I learned a lot about myself and the sport and the major thing I took out of that was that sport is not forever and I'm not going to be an athlete forever," Cambage said.
"So I came back from that injury, trained with Guy (Molloy) and he got me ready for China.
"That's why it's so great coming to play with the Boomers as I get to study Deakin as well – I get to start thinking about stuff after sport and when I am done with basketball."
With a trophy cabinet featuring national championships earned with elite Victoria Metropolitan women's teams over the years, a WNBL championship and her Olympic accolades, there is still plenty of desire to hoist the championship and return to the podium with her beloved Boomers.
"I'd love to win another championship – I haven't won anything since I was 19 with the Boomers so I want something sparkly," Cambage said.
"I know the board and Guy have been working so hard to get the players that they want and with me, Jenna O'Hea and the girls they have and the girls they're still trying to get, I think we're looking very, very strong."
Cambage, who starred for the Opals at the 2016 Rio Olympics where she contributed a tournament-high 23.5 points and 10.3 rebounds per game, is looking forward to getting back on court in front of her home city supporters.
Coach Guy Molloy said that having the Opals players, Cambage and O'Hea, on board would contribute to the development of the rest of the Boomers' roster.
"To have the leading scorer in Liz from the Rio Olympics and the second leading rebounder it automatically, not to make a rod for our back, but we're championship capable with Liz coming in, with Jenna coming in and the other girls returning to our group," Molloy said.
"So it makes for a very exciting year for us and I can't wait to get going in late August."
Deakin Melbourne Boomers chair, Tony Hallam, said Cambage would add muscle to the Boomers' in a quest to return to the playoffs, along with fellow new signing Jenna O'Hea, also an Australian Opal.
"Liz's return marks an exciting time in women's sport in Australia, with growing public attention and support. Liz is one of the very best players in the world," Hallam said.
"Today marks a significant moment for our club, our partners, and most importantly, our members.
"It also means the Boomers' rapidly-growing fan base will see the very best Victorian talent in action right here in Melbourne, we're thrilled that Liz is coming home to play."
The Deakin Melbourne Boomers have now announced seven players for the 2017/18 WNBL season with Cambage and O'Hea joining young gun Monique Conti and returning stars Maddie Garrick, Bec Cole and Britt Smart, along with second-year guard Bec Ott.
An eighth player will be announced in the coming weeks.