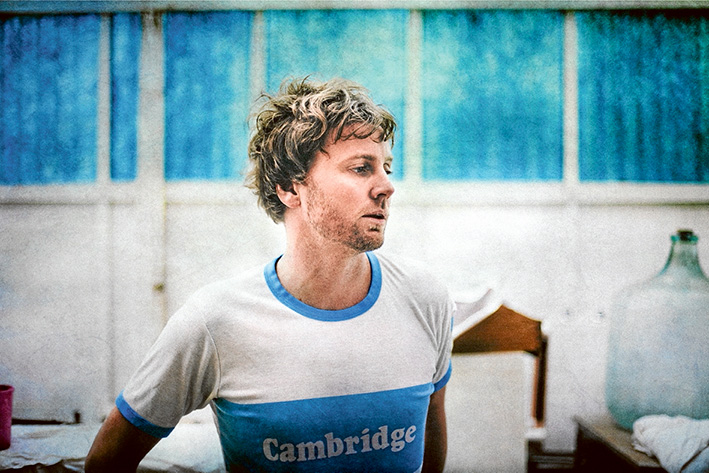 When Bob Evans takes the stage at Baha Rye on 1 June, the audience can expect a show that is personal and intimate.
One gets the feeling chatting to Kevin Mitchell, whose Bob Evans persona has won him critical acclaim, that he'd be just as happy if the crowd were up on the stage with him. Possibly kicking back on couches.
"It will be relaxed and interactive. I'm playing a really broad selection of songs going right back to the first record in 2003, right up to last year's release.
"We'll play some music. I'll take some requests. I'll probably stuff a few songs up, but by the end we'll be best of friends".
When he takes the stage in Rye, Mitchell will be freshly back from two shows of the tour in Japan, as well as a host of other shows around the country.
"I've never been to Japan before. Never even transited through the airport, so it will be a great experience. It worked out perfectly. They wanted me over there just when there was a gap in the schedule, so off to Japan we go!"
After the release of his critically acclaimed LP Car Boot Sale, and following a packed out co-headline tour alongside Josh Pyke in late 2016, the Lonesome Highways Tour will arrive on the Mornington Peninsula on 1 June.
Gracing the Australian music scene for more than two decades, Mitchell is a self-confessed romantic who has written some of the country's most beloved songs.
Under the alias of Bob Evans, Mitchell has released five albums, all of which showcase the versatility and skill of this talented songsmith.
Gentle, acoustic melodies prevail, enveloping the classic folk storytelling and strong emotional pull that characterises Mitchell's substantial body of work.
Reflecting on his remarkable career, the ever-humble Mitchell says, "I never could have foreseen where all of this was going to lead way back when I was a teenager just starting out, making an almighty racket with Jebediah.
"I have been gifted a pretty amazing life and career and I still get such a huge buzz out of it.
"Knowing there are people out there who have been supporting me for years and years just blows me away and makes me want to be better."
To give fans a taste of what's coming, Mitchell has released a live acoustic video of My Matilda, a track from this exclusive package of unreleased material. "The Golden Age of Showbiz" and "My Matilda" are both songs that just missed out on being recorded for 'Goodnight, Bull Creek!' back in 2008 and 'Car Boot Sale' just last year.
"I just like 'em and wanted to give them their moment."
Speaking on the complimentary six track EP for online ticket buyers, Mitchell says, "I have so many songs that have almost made it on to records in the past but have just missed out for one reason or another and I've always wanted to share them with people and I thought this would just be a good way to say thank you to the people who support me."
Mitchell has enjoyed nearly a quarter of a century of success in the music industry, initially as the frontman of Jebediah, who burst onto the music scene in the mid nineties, right through to Bob Evans today.
But how has the changing face of music changed the way he and his fellow band members have worked?
"Sure, the industry has changed. A lot of people say that now live shows are so much more important due to digital music. You can't rely on album sales anymore.
"But for us, it was always about live music. We never recorded an album and then sat at home watching the royalty cheques roll in.
"We toured. And we toured hard. We toured continuously and that set up our foundation for what we do today.
Jebediah are still touring, and Mitchell splits his time between Bob Evans and Jebediah duties, all while being a dad to two young kids.
"It works well. I won't say it is the easiest, or the most efficient way, but I'll do some touring, then head home for a bit, and then do some more."
While at home, it is a simple studio in his garage where he collects his thoughts, writes songs, and does his demos. All important work, but not the same as getting in front of a crowd.
"Touring is the thing. It is enjoyable and rewarding. I just love to get in front of a group of people and share some time with them."
"I've honestly been doing it for such a long time now that I wouldn't know what else to do with myself.
"A lot of the time, I feel more comfortable and more myself when I'm onstage than off of it and the feeling of satisfaction I get from playing a good show is unbeatable."
Tickets to the Lonesome Highways Tour are on sale now.
All tickets purchased through www.bobevans.com.au and other online outlets will receive an exclusive six track EP of unreleased material.