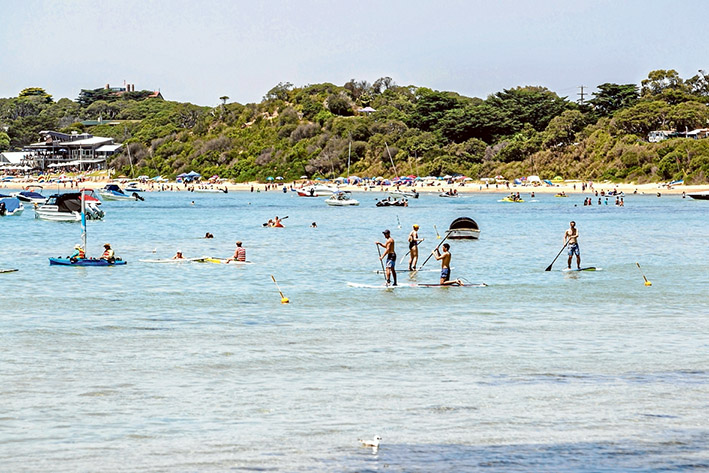 FIVE Mornington Peninsula beaches make the top 10 of cleanest beaches in Port Phillip, according to summer testing by Environment Protection Authority Victoria (EPA).
Water quality recorded by the EPA over summer saw Eastern Beach, Geelong, The Dell, Portarlington and St Leonards tied at the top.
Portsea came fifth and Blairgowrie and Sorrento sixth; Dromana and Rosebud were equal 10th.
Over summer the EPA provides twice-daily forecasts for 36 beaches of either good, which equates to suitable swimming conditions, fair, meaning beaches may not be suitable, or poor, which advises beaches are not suitable for swimming.
Other peninsula beaches ranked by the EPA were Rye, 12th; Canadian Bay and Mornington 13th; and Mt Martha 16th.
Frankston was 34th near the coast guard building and 36th at the lifesaving club. Seaford was 19th.
EPA applied sciences group manager Anthony Boxshall said rainfall of more than 10 millimetres was often associated with poor water quality at bay beaches.
"While it was quite a dry summer, Victoria experienced prolonged downpours around the Christmas and New Year's period that contributed to extended periods of poor water quality at all of the 36 beaches that EPA monitors," Dr Boxshall said.
"Unfortunately for beachgoers, most of this rain fell just before or during weekends, and usually just before warmer weather, which is when bay beaches are at their busiest."
Dr Boxshall said that the storms meant EPA forecast poor water quality conditions at beaches for eight per cent of the time in summer, with 15 per cent of forecasts fair and 77 per cent good.
"This compares to the 2015-16 summer where we had six per cent poor, 19 per cent fair and 75 nper cent good. However, this two percentage point difference was an increase of about 200 poor forecasts over the summer, and occurred mostly at peak times of beach use," he said.
Dr Boxshall said that Melbourne's stormwater system and the downhill nature of the landscape towards the bay meant that heavy rain flushed anything on suburban streets into the bay.
"Eight major creeks and rivers, and more than 300 drainage outlets flow into Port Phillip. Sources of this water include about 5000 underground drains that collect Melbourne's runoff," Dr Boxshall said.
"From there, about 540,000 million litres of stormwater containing around 160,000 tonnes of sediment washes into the bay annually; and remember that the bay itself is only about 25 cubic kilometres."
Dr Boxshall said that looking at such huge numbers showed just how resilient the beach water quality of Phillip Bay is to be able to bounce back to its normal state, on most occasions, within 48 hours.
Water quality forecasts are online at www.yarraandbay.vic.gov.au