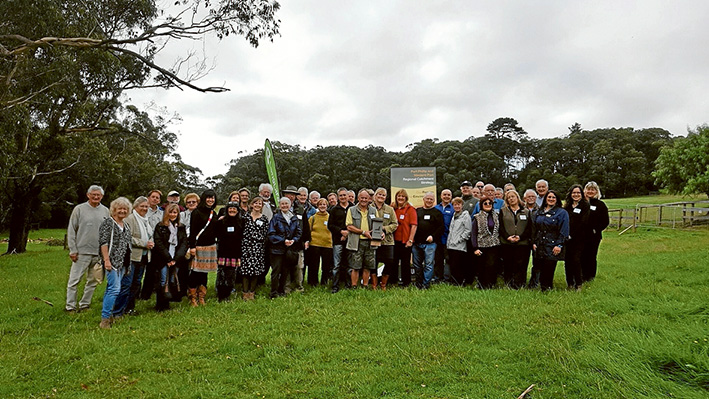 A PROJECT to strengthen the nature link between two of the Mornington Peninsula's largest parks: Greens Bush and Arthurs Seat, was launched on Saturday 29 April.
Greens Bush, between Arthurs Seat and Cape Schanck, is the largest remnant of bushland on the peninsula. Surrounded by farmland, the area contains a variety of vegetation types, making it a wildlife haven and excellent place for nature walking.
Arthurs Seat State Park is a prominent feature in the landscape at 314 metres. Apart from views of the bay, city skyline, You Yangs and Mt Macedon, the park is home to species including the brown bandicoot, koala, tree goanna, southern emu-wren and wedge-tailed eagle.
Mornington Peninsula Landcare Network and the Port Phillip & Western Port Catchment Management Authority are launching the project which is being coordinated by the Mornington Peninsula Landcare Network.
It aims to restore native vegetation on up to 25 private properties through revegetation, weeding and fencing of remnant bushland.
A grant of $300,000 over four years by the Victorian Government's "Our Catchments, Our Communities" initiative led by Water Minister Lisa Neville getting it up and running.
"The project is bringing to life the exciting vision of local landholders and community members and will have significant environmental and community benefits," Landcare facilitator Dr Jacqueline Salter said.
"This work will help threatened animals, including the Powerful Owl, White-footed Dunnart, Lewin's Rail and the Swamp Skink, as well as contribute to healthier waterways in the Drum Drum Alloc Creek and Splitters Creek catchments."
Dr Salter said she had been "overwhelmed with interest from members of the public" offering their properties for the project.
"I've got around 25 involved now so I've had to close registrations," she said.
Landowner Ian Beattie, who is happy to include his 17.5 acre former orchard in the nature link project, hosted the setting for the announcement on Saturday.
"I'm not overly 'green' but, when I met up with members of the Landcare group, I changed my mind because of the benefits of participating," he said.
"We bought the land and are building so that we can relocate there towards the end of the year.
"The bio-link project made a lot of sense and we will enjoy being part of the community and not just remote landowners.
"There's merit in what they are trying to achieve."
Two areas of his property will be restored back to something like their natural habitat through revegetation, weeding and fencing of remnant bushland to keep out wandering stock and feral animals.
"We see the long-term benefits in that the land will be improved which will attract birds, such as native parrots. We had friends over last week who identified 15 different types of birds."
Mr Beattie said the removal of blackberries along Splitters Creek would improve his hobby farm. "It's like a mini-rainforest there," he said.
Organisations involved include Mornington Peninsula Landcare Network, Port Phillip & Westernport CMA, Natural Resources Conservation League, Mornington Peninsula Shire, Parks Victoria, Melbourne Water, Birdlife Australia (Mornington Peninsula branch), Bunurong Land Council, Chisholm Tafe and Holmesglen Institute. Guest at the launch included John Woodland of Melbourne Water, David Maddocks and Bernie Schedvin of the Mornington Peninsula Landcare Network, David Buntine of Port Phillip & Westernport CMA, Anthony Hooper of Natural Resources Conservation League, the mayor Cr Bev Colomb, and Crs Sam Hearn, David Gill, Simon Brooks and Antonella Celi.