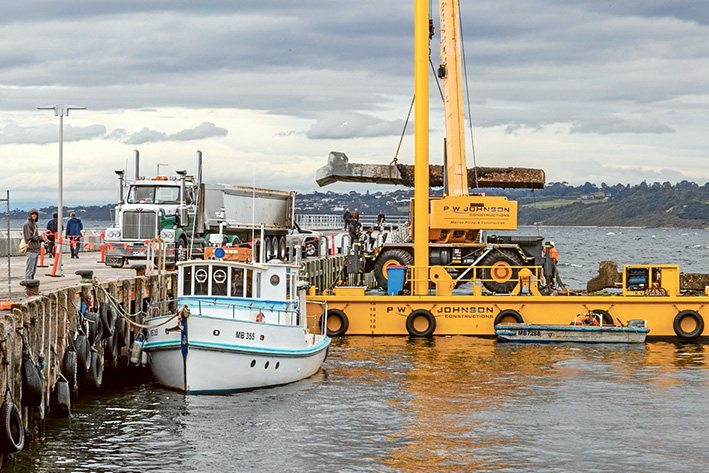 STORM damaged wave panels on Mornington pier were removed by a specialist marine contractor last week.
P W Johnson Constructions, of Carrum Downs, used a floating barge and hydraulic crane to remove the remaining five 15 tonne wave protection panels.
Some of the panels, dislodged in July and October storms, were recovered from the sea bed before winter.
In January, the firm removed the first of the loose wave panels, created a safe walking surface on the damaged section of the pier deck, and installed a temporary edging fence to allow the damaged area to be re-opened.
Parks Victoria admits a more "robust wave protection system" is needed at Mornington pier after its repeated failures to withstand mid-year storms.
"Parks Victoria is working hard to finalise a stronger technical solution to make sure repairs withstand future significant storm events," Melbourne Marine and Maritime regional director Jo Richards said.
"We are continuing to work hard with marine infrastructure engineers to finalise plans for works.
"We continue to have confidence in the pier itself which is structurally sound with a 1.2-metre-thick reinforced concrete deck, supported by 100 steel piles driven over 20 metres into the sea bed."
Rebuilding the pier will begin in summer.