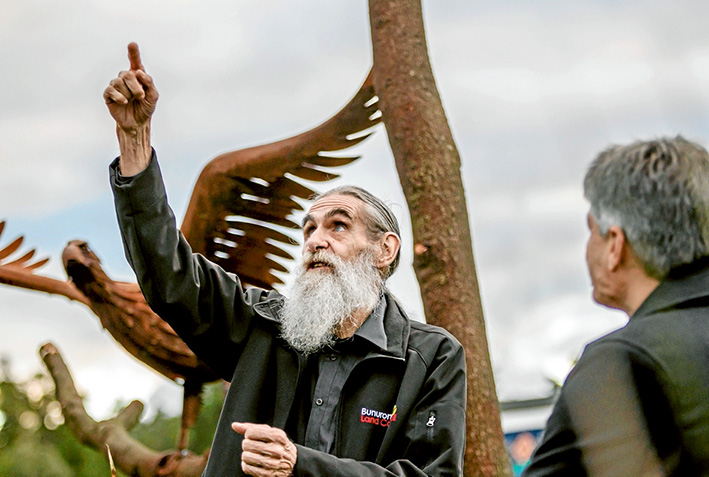 A STATUE of Bunjil – the wedge-tailed eagle creator and spiritual being – now sits at the entrance to the Willum Warrain Aboriginal gathering place at Hastings.
The unveiling of the statue on Friday was also timely in that it marked the recent reopening of the centre which had been closed due to lack of money.
"This is a significant day for our mob," Wullum Wirrain president Peter Aldenhoven said.
"We have recently been closed for four and a half months as we temporarily had no funding for staff and operating costs.
"This [its temporary closure] caused great dismay to our community. Now, with Bunjil sitting aloft on his entry perch, we can embrace the future with more confidence and security."
Mr Aldenhoven said the "gathering place" Willum Warrain – which means "a home by the sea" in the Boon Wurrung language – is controlled by the Aboriginal community.
"Located in a tranquil bush setting, Willum Warrain is a place of hope, belonging and cultural connection for Aboriginal and Torres Strait Islander peoples living on the Mornington Peninsula."
He said there were more than 230 Aboriginal members and 130 non-indigenous "kin, friends and supporters".
"It is also a destination for reconciliation, regularly visited by people and groups wishing to engage with the local mob. Willum Warrain warmly welcomes all visitors to our special space," Mr Aldenhoven said.
"Bunjil, the wedge-tailed eagle, is a very important totemic figure, always soaring above the landscape keeping a watchful eye on all inhabitants and affording protection to children in particular."
Mr Aldenhoven said a donation from the George Hicks Foundation had enabled Willum Warrain to commission the statue from Somers sculptor, Paul Mutimer.
"We are certain that Mutomer's wonderful work will attract many future visitors to our gathering place and remind all who enter of deep spiritual connections to land and sky."
He said a pair of wedge-tailed eagles were often seen flying overhead "so it is fitting that Bunjil will be a permanent resident as well out front".