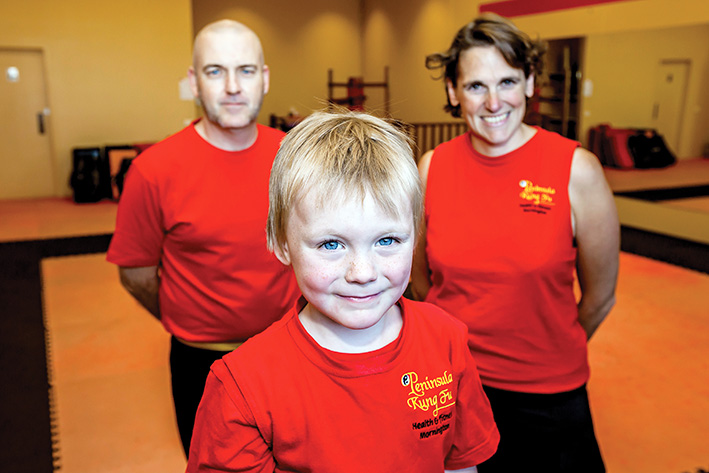 ANTI-bullying seminars for children aged 6-14 and their parents will be held at a Mornington martial arts centre next month.
The free seminars are aimed at teaching children practical strategies to help them identify and deal with bullying behaviour and how to "buddy" rather than "bully" others.
"Bullying is still a huge problem, and we believe that no other industry is better equipped to end bullying than martial arts," said Glenn Shand, owner and chief instructor of Peninsula Kung Fu.
The centre is a member of Martial Artists Against Bullying, an international organisation with hundreds of members devoted to "ending bullying once and for all".
Assistant instructor Sarah Hanna is presenting the seminars which she says are the first held in Mornington.
"There is a lot more to martial arts than just fighting," she said.
"Participants learn self-control, how to behave with other people, and self-confidence.
"The seminars will focus on learning strategies to avoid being bullied, such as avoiding eye contact, standing up and not slouching, and ways to react to let potential bullies know [you] will stand up to them."
Ms Hanna said bullies often targeted weaker, smaller victims because they didn't feel good in themselves and the assumed dominance made them feel superior.
"My children are doing martial arts and that's where they learn life's lessons: respect, teamwork, grounding and how to deal with bad behaviour," she said.
"There is something we can do against bullying. We can learn to adopt a physical stance and defend ourselves, but there are also a range of steps that can be out in place beforehand, such as by telling the bully you don't like it, talking them down, and taking the power away from them."
The seminars will focus on awareness (identifying bullying behaviour), avoidance (learning ways to avoid being the target), and assertiveness (learning how to stop bullying behaviour).
The first seminar will be 1-3pm, Saturday 3 June, at Peninsula Kung Fu, 1/2 Carbine Way, Mornington.