SOCCER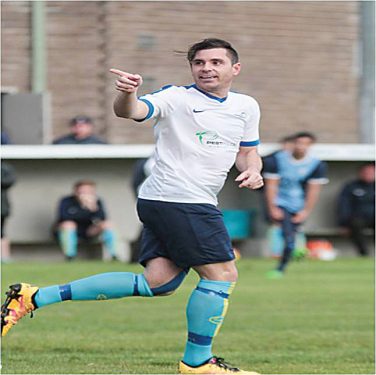 By Craig MacKenzie
LANGWARRIN remained on top of the State 1 South-East ladder after downing St Kilda 2-0 at Lawton Park on Saturday.
Gus Macleod's side now faces a crunch fixture against second-placed outfit Caulfield United Cobras at Victory Park next weekend.
Langy's new Scottish signing Liam Baxter took just three minutes to make a major impact last weekend when he skinned an opponent on the left and surged into the penalty area before watching his cutback deflected by Sam Sweeney for an own goal.
Big George Whiteoak was at the near post to head home Connor Belger's corner in the 30th minute.
Langy captain Boris Ovcin was sent off after receiving a second caution in the 58th minute and despite St Kilda dominating possession the second half belonged to Langy keeper Robbie Acs.
The experienced custodian put on a master class in reaction saves highlighted by parrying Sweeney's penalty attempt in the 79th minute and smothering the rebound.
Star Langy defender Keiron Kenny should finally return from the UK this week and is expected to be rushed straight into Saturday's matchday squad along with veteran striker Caleb Nicholes who played in the reserves last weekend following his Kokoda Trail trek.
Mornington's stuttering championship defence continued when it lost 2-1 at home to South Springvale last Saturday.
Former Port Melbourne star Bonel Obradovic broke clear in the 18th minute and despite a superb double save from Mornington keeper Kris McEvoy the ball fell to Obradovic a third time and he made no mistake.
The visitors went 2-0 up in the 48th minute after Michael Kariuki ran onto a through ball on the right of the penalty area and struck a low shot that beat a diving McEvoy at the near post.
A superb Chris Reid free kick in the 80th minute got the home side back into the contest but it proved to be too little too late.
"We'll set some targets for the next five weeks and we'll remain positive," said Mornington boss Adam Jamieson.
Mornington is in talks with two NPL players and is hoping to snare three newcomers in total when the transfer window opens later this month.
Peninsula Strikers defeated Frankston Pines 1-0 in their State 2 South-East derby on Saturday.
The pivotal moment came in the 68th minute.
Veteran forward Trevor Johnston should have put Strikers ahead a minute earlier but struck the far post and Pines were still trying to get organised at the back when Johnston was again in a scoring situation and he made no mistake this time smashing the ball past Pines keeper Alfonso Cardinale from close range.
Johnston's elaborate celebration took him towards the stand in the outer where Strikers senior coach Craig Lewis and assistant Billy Buchanan were serving one-match touchline bans for being sent off the previous week against Seaford United.
Yet Pines had created the best two chances of the first half.
In the 6th minute, Strikers keeper Colin McCormack was forced to smother after Jack Wrobel had broken through on the right and in the 20th minute, Graham Hill should have at least got his free header on target following a corner to the back post.
The closest Strikers came was from Danny Brooks' 12th-minute free kick that forced Cardinale to dive down low and tip the ball wide of the far post.
Luke Murray's second caution in the 60th minute ended his involvement in the contest and Hill joined him in injury time with a second yellow card.
In between McCormack was forced to parry a sizzling long-range strike by Ben Millward and Leandro Parrella wasted a fine overlap from substitute Tom Hawkins on the right by blasting his shot over from 10 metres.
There may be news on the transfer front from Centenary Park later this week.
Harry McCartney reports that State 2 South-East outfit Seaford United went down fighting in their 3-0 home loss to Mazenod on Saturday.
In the 25th minute, a long ball from Matty Morris-Thomas over the Mazenod defence saw Mitch Lander run past the visiting back four to slot the opener, only to be disallowed by the linesmen flagging for offside much to the disbelief of the home crowd.
In the 35th minute, Lander broke down the right and his cross was met by Alex Roberts whose shot forced Mazenod keeper Nick Van Hattam into a sharp save down to his left.
In the 40th minute, a scrappy shot from Vince Vasquez seemed easy pickings for Seaford keeper Patrick Bretherton before the wet ball skidded under his hands and slowly dribbled into the Seaford net for an embarrassing opener.
The pressure by Mazenod in the second half was telling and Adrian D'Ortenzio's sided footed cross gave Colin Stewart an easy tap in from close range to make it 2-0.
But Seaford deserves credit for continuing to create chances until injury time when Nick D'Angelo was clipped inside the area and his brother Robert D'Angelo had no problem converting from the penalty spot.
Skye United blew a two-goal cushion and had to settle for a 2-2 draw at home to South Yarra on Saturday.
The result saw Skye slip to third on the State 3 South-East ladder with a game in hand.
In the 35th minute Skye's Michael Putson took a quick free kick and sent Jason Nowakowski through and he rounded the keeper before slotting the ball home from a tight angle to open the scoring.
In the 70th minute, English import Jacob Scotte-Hatherly finished well from outside the area to make it 2-0.
But South Yarra's Luke Atkinson was unmarked and pulled one back just five minutes later and the visitors were rewarded for their pressure when Vincent Hetherington finished well from inside the box following a long throw in the 89th minute.
Baxter's 3-0 victory in Saturday's State 4 South home clash with Endeavour Hills Fire was earned via a dominant first half display.
Dan Disseldorp's through ball sent Liam Kilner clear in the 20th minute and he slotted the ball past Endeavour keeper Stuart Tolmie to make it 1-0.
A long-range strike by teenager Travis Ernsdoerfer thumped off the crossbar in the 29th minute and shortly after Jack Gallagher's strike rebounded off Tolmie allowing Mark Pagliarulo to make it 2-0.
It was game, set and match in the 44th minute after Disseldorp scored from close range following a corner.
The best aspect of the second half from a Baxter perspective was Francis Beck's clean sheet.
Rosebud Heart is a shadow of the side that won every league game last year and its 4-2 home loss to Keysborough in their State 4 South fixture last weekend was its fourth loss this season.
Dave Greening (22nd minute) and Cory Osorio (68th) scored for Heart while Keysborough's goals came from Nemanja Salamandic (28th, 68th), Nicolas Jaque (63rd) and substitute Victor Pinto (penalty 90th).
Somerville Eagles eventually succumbed to Dandenong Warriors 4-0 away from home last weekend.
Eagles keeper Toby Lawson had to be replaced after 15 minutes due to a knee injury and striker Neil Herd took over in goal.
Despite Herd's fine display the Warriors ran out comfortable victors due to goals from David Baraka (61st minute), Michael Bowen (75th), Tom Cikoratic (80th) and substitute Laku Laku (85th).
Somerville lost Paul Walker and David Hughes to Baxter last week but three new players, including an Irish striker, are due to train with the club this week.
Kevin McCormack and Jarryd Lymer are likely inclusions in this weekend's matchday squad to face Sandown Lions.
Local women's NPL consortium Southern United creates history when it takes its home game on Mother's Day, Sunday 14 May, to Gippsland.
Hosted by Falcons 2000 SC at Latrobe City Sports Stadium, all four Southern teams will travel to Morwell to compete in round 11 of the competition against Victoria's National Training Centre squads.
Southern's under-13s will play an exhibition match against the Latrobe Valley Soccer League's under-14 representative team at 10am, Southern's under-15s play NTC's under-15s at 11.30am, a skills clinic conducted by Southern's coaching staff then takes place prior to the 1pm kick-off of the Southern v NTC under-18s match.
The senior game between Southern and NTC kicks off at 3pm and the senior women's match between local sides Falcons 2000 and Churchill United starts at 5pm.
This weekend's men's games:
FRIDAY, 8.30pm: Monbulk Rangers v Skye Utd (Monbulk Regional Soccer Facility), Springvale City v Baxter (Ross Reserve, Pitch 1).
SATURDAY, 3pm: Caulfield Utd Cobras v Langwarrin (Victory Park), Warragul Utd v Mornington (Baxter Park, Warragul), Frankston Pines v Seaford Utd (Monterey Reserve), Peninsula Strikers v Old Scotch (Centenary Park), Endeavour Hills Fire v Rosebud Heart (Power Reserve), Sandown Lions v Somerville Eagles (Ross Reserve, Pitch 2).