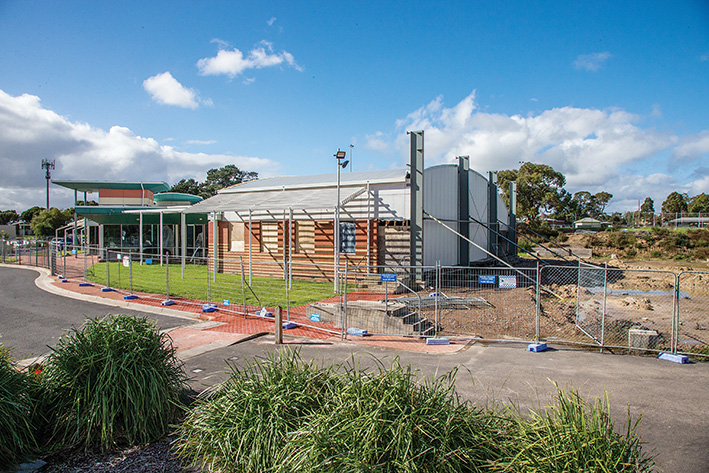 WESTERN Port Basketball Association members are meeting on Saturday to protest at the lack of action and transparency in the rebuilding of the Somerville stadium which burnt down 12 months ago.
Association officials say they have heard "rumours" but had no official word from Mornington Peninsula Shire Council about when a new stadium will be built to cater for their 1300 members.
Basketball operations manager Tyler Molloy said the association received "many phone calls daily" from members asking for updates.
"We can't give them anything because we haven't been told anything," he said.
"Even an email now and again [from the shire] to keep us in the loop would be helpful."
In a letter to members last week, Mr Molloy said the "devastating impact the loss of the stadium has had on our basketball family and greater community is still an ongoing battle a year later".
"[We've had] no committed answer from the shire on a construction start date for the new recreation centre," he said.
"Major questions keep being stalled at every meeting or organised meetings with WPBA officials being put off.
"It's not good enough to be hearing rumours for over a year from the shire and rumours about our club in the basketball community.
"Action now needs to be clear and happen now."
Despite the setback, Mr Molloy said the growth of basketball over the past year has been "huge, with WPBA gaining team numbers after this tragic incident".
"We expect this to continue moving forward given that … all WNBL and NBL games are live on Fox sports next year.
"We have nothing to help us grow in the area, we need to be heard and properly be accommodated.
"A part of being heard is that we are asking for as many junior players as possible to be at the Somerville Recreation Centre, 10am, Saturday 13 May, to take part in a club photo outside of our abandoned stadium. All players are to bring a ball and be in full uniform."
Players are being taken to 17 replacement courts as far apart as Langwarrin, Mt Eliza and Bittern.
The shire's chief operating officer Alison Leighton said on Friday – after learning of Saturday's public meeting – that "plans for rebuilding the Somerville Recreation and Community Centre continue with tenders for design and construction being advertised shortly".
"While ground breaking for the new facility will not start until later this year, a great deal of the background preparation work has continued in earnest," Ms Leighton said.
She said a consultant team had been appointed to coordinate the layout for the building that included extra courts.
"The shire plans to seek additional funding for the redevelopment from the state government which, if successful, would allow for two additional basketball courts on the site."
It is still not known if the council's insurer will help pay for a new stadium. Ms Leighton says "negotiations continue … to reach an agreement [with the insurer] … that will ensure that the new facility achieves a high standard".