SOCCER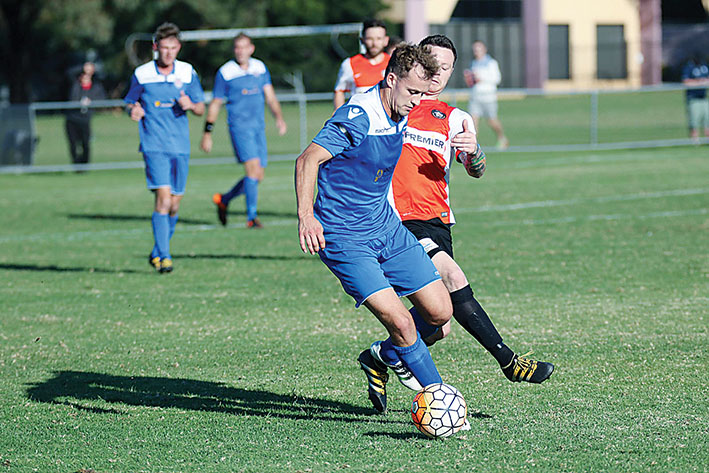 By Craig MacKenzie
LANGWARRIN made a statement of intent on Saturday when it spanked Caulfield United Cobras 5-2 in their State 1 South-East top-of-the-table clash at Victory Park.
Langy's opening goal was all about the timing and angle of Liam Baxter's off-the-ball run and Mat "Yaya" Luak's ability to pick him out with a perfectly directed and weighted pass and once the quicksilver Invernesian was in the clear there could only be one result.
From the left of the area Baxter slotted the ball low past advancing Caulfield keeper Jayden Allan and Langy was 1-0 up after six minutes.
Lewis Foster won the ball in the 41st minute then switched play to the right where Connor Belger was lurking.
Belger read the flight better than his Caulfield opponent before hammering home a low right-foot volley that beat Allan at his near post.
But Caulfield clawed its way back into the contest four minutes later when beanstalk striker Cort Kibler-Melby got free from the attentions of George Whiteoak and his clinical finish made it 2-1.
In the 50th minute Aaran Currie decided to let fly from all of 30 metres sending the ball slamming against the Caulfield crossbar.
A minute later Belger's low left-foot shot from outside the area made it 3-1 and when Baxter decided that the time was ripe for one of his party pieces the large Langy travelling support was in raptures.
The time was the 61st minute and the trick was to tee up the ball with his first touch outside the area and with the second send a stunning volley over Allan's head to make it 4-1.
In the 74th minute Kibler-Melby outbustled Whiteoak and won the race against advancing Langy keeper Robbie Acs to head into the unguarded goal to make it 4-2 but Currie rounded off a good day for the league leader by scooting clear onto a superb John Guthrie through ball and slotting home in the 78th minute.
A bad day for the home side was compounded when defender Thomas Rankin received a second caution and was sent off in the 81st minute.
Mornington overpowered Warragul United with a 4-0 away win on Saturday with all the goals coming in the second half.
Warragul failed to deal with a corner in the 48th minute and Mornington central defender Stevie Elliott scored with an overhead kick from close range.
Mornington's ace striker Ryan Paczkowski put the visitors further ahead in the 57th minute and a superb left-foot drive from substitute Nathan Smith in the 78th minute put the contest out of the home team's reach.
Paczkowski got his brace six minutes from time and although the win puts Mornington back into the promotion race it came at a high cost.
Josh Valadon was injured in the first half and looks to have a few weeks on the sidelines due to medial ligament damage but his replacement, Stefan Soler, broke an ankle late in the contest and had to be taken to hospital.
At training last week Nathan Yole suffered a foot injury and Scott Miller damaged ankle ligaments so the depth of Mornington's first team squad is being severely tested.
Due to a family bereavement Paczkowski flew back to England after the match but is due to return on Saturday morning.
Harry McCartney reports that a controversial derby at Monterey Reserve on Saturday resulted in a vital 4-2 win to Seaford United against home team Frankston Pines.
Seaford made a positive start without luck as three shots in three minutes sailed over the Pines bar.
But just when Seaford threatened to buck its trend of slow starts referee James Milloy awarded a penalty to the home side for what looked to be a clean tackle by Seaford's Jarrod Sultana in the 8th minute.
Ex-Casey Comets midfielder Francois Armansin converted with ease to make it 1-0.
In the 35th minute Seaford captain Daniel Walsh made a blistering run down the left and played an effective one-two before unleashing a drive that slammed against the bar.
The rebound was in dispute until a deflection fell to Alex Roberts in a one-on-one and he slotted it into the bottom right-hand corner for the equaliser.
Early in the second half a through ball left Seaford striker Mitch Lander with only Pines keeper Alfonso Cardinale in his way.
Lander tried to go around the keeper but only managed to go to ground as he rolled his foot on the ball and the two players unavoidably came together.
Referee Milloy gave Cardinale a second yellow forcing Pines boss Billy Rae to replace veteran Ben Caffrey with reserves part-time gloveman Liam Stuckenschmidt.
Seaford's Paul Maguire hit the roof of the net with his penalty conversion to put the visitors in front.
In the 55th minute Seaford midfielder Tom Natoli challenged Stuckenschmidt and Lander pounced as the ball broke free and struck it into the open goal to make it 3-1.
The goal of the game came in the 62nd minute when Lander broke down the right and chipped a perfect ball to Roberts who met it with a precise first-time half-volley that rocketed into the Pines net.
In the 85th minute an Alex Akrivopoulos toe-poke left Seaford keeper Enes Umal stranded and the ball struck the back of the net to round off the scoring.
Peninsula Strikers had to settle for a 1-1 draw in Saturday's State 2 South-East home game against Old Scotch.
Strikers featured new signing Sam Scott and the former Langy and Clifton Hill midfielder impressed Strikers' coaching staff.
"Sam's an exceptional footballer and he brought another dimension to our game," said Strikers' head coach Craig Lewis.
The home team suffered an early setback when Old Scotch swung in a free kick from a wide position and Chris McKenna's attempt to head clear went in off Piotr Korczyk.
Strikers created enough chances to win comfortably but their dominance of possession couldn't be translated into goals.
Their sole reply came in the 68th minute when Trevor Johnson was at the back post to head home following a Tom Hawkins' cross.
A few minutes later Strikers' fans watched in dismay as the referee produced a straight red for Strikers' midfielder Danny Brooks.
"That's the best we've played all year. To create that many chances and to look solid defensively were pleasing aspects," said Lewis.
The Strikers' boss wouldn't be drawn into comment on the Brooks send-off but was clearly upset by the decision.
Skye United maintained its promotion push in State 3 South-East with a 3-0 away win over Monbulk Rangers on Friday night.
Skye's custodian Jonathon Crook was in the thick of the action in the first 15 minutes, notably tipping over Marcus Watson's long-range drive.
The deadlock was broken in the 71st minute when English import Jacob Scotte-Hatherly whipped in a dangerous ball which young gun Lawrence Komba bundled over the line on his senior debut.
A minute later Marcus Collier broke through the Monbulk defence and squared the ball to Scotte-Hatherly who tapped in from close range to make it 2-0.
The result was put beyond doubt in the 82nd minute when Jason Nowakowski skipped passed his man and cut the ball back to Komba who grabbed his second of the game.
Baxter was outclassed by Springvale City 5-2 in their State 4 South clash at Ross Reserve last Friday night.
In the 15th minute Springvale's Dale Chrich finished a fine run from midfield with a stinging 20-metre strike that Baxter keeper Francis Beck parried but the incoming Stuart Nicholson headed home the rebound to open the scoring.
The cultured left foot of Adem Alicevic swung into action in the 24th minute when his curling shot from the right beat Beck all ends up and nestled in the top far corner of the Baxter goal to make it 2-0.
In the 28th minute Travis Ernsdoerfer played Liam Kilner in but he was tripped inside the area and Mark Pagliarulo converted with ease to make it 2-1.
Beck failed to get a firm enough touch to a corner in the 43rd minute and former King's Domain striker Graham Glynn forced the ball over the line to restore the home side's two-goal cushion.
Four minutes into the second half Ernsdoerfer made an excellent solo break into the left of the Springvale area and his cutback was side-footed home by fellow teenager Jack Gallagher to make it 3-2.
Three minutes later Springvale broke down the left and big Glynn was sent through for a simple finish past the helpless Beck to make it 4-2.
The scoreline was completed in the 78th minute when Beck could only palm Armin Kerla's corner against the bar and Alicevic finished off the rebound.
While the finger of blame can be pointed at Beck for two of Springvale's goals his one-on-one saves were all that stood between Baxter and an embarrassing scoreline.
Rosebud Heart got back to winning ways in style with a thumping 5-1 away win over cellar dweller Endeavour Hills Fire last weekend.
Dave Greening scored four goals taking his tally to 97 in 50 games for Heart, an insane strike rate at any level of the game and a continuation of his remarkable scoring record in Victorian soccer.
Somerville Eagles remain the only winless State 5 South side after Saturday's 5-1 away loss to Sandown Lions whose scorers were Yandon Kong (2), Math Thowat (2) and Nhial Kim.
Damien Finnegan scored for Somerville and this weekend's home match against third-last outfit Bunyip District gives the Eagles a chance to get off the bottom of the league.
This weekend's games:
SATURDAY, 3pm: Langwarrin v Manningham Utd Blues (Lawton Park), Mornington v Caulfield Utd Cobras (Dallas Brooks Park), Seaford Utd v Eltham Redbacks (North Seaford Reserve), Beaumaris v Peninsula Strikers (Beaumaris Reserve), Old Scotch v Frankston Pines (H.A. Smith Reserve), Skye Utd v Noble Park Utd (Skye Recreation Reserve), Baxter v Hampton Park Utd (Baxter Park), Rosebud Heart v Springvale City (Truemans Road Recreation Reserve), Somerville Eagles v Bunyip District (Somerville Secondary College).