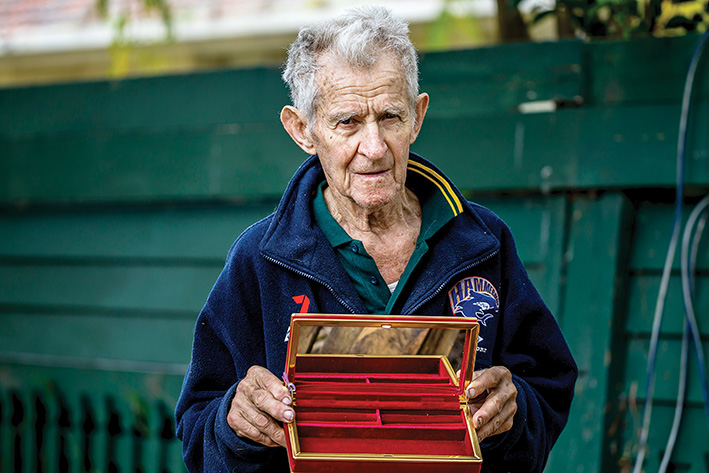 A CAPEL Sound WWII navy veteran had his 12 service medals stolen the day before Anzac Day.
Ron Bergman, 89, couldn't believe it when he discovered his seven Australian service medals and replicas of his five US service medals had been taken from his Ronlyn St home.
Detective Senior Constable Alex Montgomery, of Somerville CIU, said  thieves let themselves in through an unlocked front door on Monday 24 April. They stole replicas of his US medals from a bedroom and his Australian medals from a display cabinet he was making in his carport.
"The shock didn't set in until later," Mr Bergman said. "It's very upsetting because I've lost a lot of pals who died during that time and I have such fond memories of them."
Mr Bergman was attracted to the navy as a schoolboy in Noble Park and, in 1939 aged 13, he passed an entrance exam to officer training as one of only 13 chosen from a field of 800.
He remembers taking a letter from the navy home to his mother saying it would cost them five shillings each week for his board – while his stepfather was only bringing home only one pound eight shillings. Times were tough, but the money was found somewhere.
Mr Bergman trained at the Flinders Naval Depot (now HMAS Cerberus), Crib Point and joined the merchant navy in 1944 aged 17. After being sent to Darwin he saw action against the Japanese and served on four Australian ships. He then transferred to the US merchant marine of which he has fond memories – especially receiving $100 a month in pay – and recently received a certificate of appreciation from the US.
Mr Bergman believes the thieves will sell medals for money to buy drugs.
He has replicas of the stolen Australian medals and the thieves missed out on finding the authentic US medals.
"It would be a good thing for these young thieves to see what life was like then," he said.
"I used to send home half my pay and that helped educate my younger brother and sister."
Mr Bergman "didn't say anything" about the stolen war medals when he attended Anzac Day at Rye RSL on Tuesday 25 April. His mates will have the chance to discuss the sorry affair at a party to celebrate his 90th birthday on Friday 9 June.
Detective Montgomery said anyone with information should call him at the Somerville CIU, 5978 1300 or Crime Stoppers 1800 333 000.
First published in the Southern Peninsula News – 16 May 2017