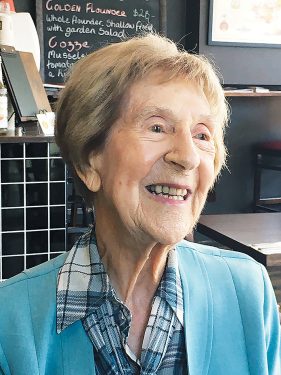 MORNINGTON'S Delsie Storie, pictured, was born at Castlemaine in 1917 and has lived through two world wars, witnessed the evolution of the motorcar, radio, aeroplane, computer, internet and watched men walking on the moon in 1969.
Ms Storie met husband John just before WWII and they were married for 54 years, with Delsie nursing Jack for his final years.
On Friday 5 May she celebrated her 100th birthday at Morven Manor in Mornington, and the next day enjoyed high tea at Lotus Chiropractic, Mt Eliza, with many of the people she has met and spent time with over the years.
Lotus's Andrea Thompson  said Ms Storie was "quite a celebrity and well known in both the Mornington and Mt Eliza".
"Delsie attributes her wonderful health and fabulous mind to keeping life simple and sending love to every person she meets," Ms Thompson said.
"She studies four hours most days and says she feels like there are never enough hours in the day.
"She is well known at many of the local cafes, restaurants and shops as she is always out and about finding new people to chat to."