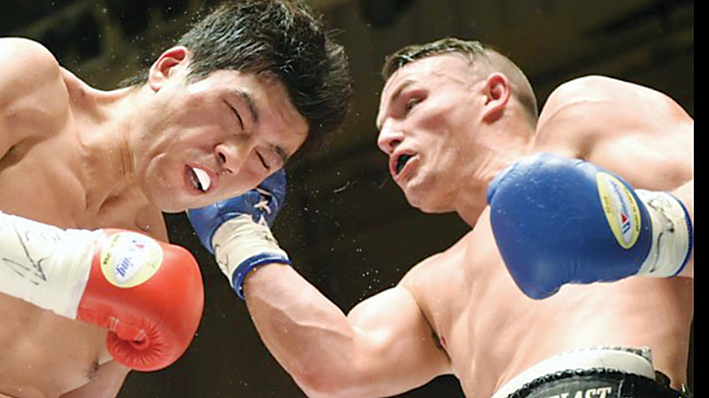 By Ben Triandafillou
PENINSULA boxer, Jayde Mitchell, has added another notch to his belt with a technical knock-out at his latest outing on Saturday 22 April.
Fighting in the semi-main event on a stacked card at the Melbourne Pavilion, Mitchell defeated a late replacement boxer, Roland Oroszlan, to make it eight straight wins.
Mitchell took out the fight in the second round to notch up his seventh knock-out victory from 14 fights.
But the highlight of the night was being on the same card as the legendary Sam "King" Soliman, Mitchell says.
"Sam Soliman has been a hero of mine since I was young and starting out, I have always looked up to him," Mitchell said.
"Even with the late replacement opponent I still wanted to be a part of the card as Sam may only have a few fights left."
Soliman has won 45 fights across several weight divisions from light-middleweight division to cruiserweight, in a career spanning 20 years.
Currently Australia's top middleweight boxer, Soliman has come up against the best from competing for the WBA super-middleweight title against Anthony Mundine in 2007 to defeating the multiple-time world champion Felix Sturm for the IBF middleweight title in 2014.
Growing up in Blairgowrie, Mitchell has grasped a lot from watching Soliman who was originally from Frankston.
"The way Sam carries himself has rubbed off on me," Mitchell said.
"We are quite similar, we are both very relaxed fighters and both just love boxing."
In a few weeks Mitchell will make his way back to Melbourne Park's Function Centre where he recently defeated Les "Lock N' Load" Sherrington to defend his WBA Oceania super-middleweight title.
Facing Istvan Zellr in a 10-round fight, Mitchell will be coming out with authority to defend his WBA Regional title at the Hosking Promotions Punches at the Park 4 on 3 June.
"Zellr went 10 rounds with Sydney's Bilal Akkaway who I will be meeting in the near future," Mitchell said.
"Akkaway and I are both regional champions, and he's a champion in recess."
"Akkaway defeated Zellr last time, so I'll be going out to make a statement and stop Istvan Zellr."