HASTINGS FNC
AFTER a bye in round one, the Hastings Women's Football team got to pull on the Hastings jumper for the season proper. They arrived at Officer for an early start on Saturday morning keen to put their best foot forward. What a privilege it would have been for Hastings to pull on the royal blue for the inaugural game of Women's footy.
For many girls it would be their first game of senior footy, for some their first ever. They took to the ground, and got off to a tentative start, but after the quarter time break you could see the girls settle into their rhythm and start playing some wonderful team orientated football, taking the lead and never looking back.
The girls pressure was high, with Bridgitte Kupsch and Kaitlan Smith dominating in the ruck and the onballers,  Zoe Mitchell and Laura Beattie taking advantage of the hit outs, moving the ball well into the forward line with an even spread of contributors. Our backline created plenty of run, Ella Gavin along with Michelle Turnbull and Makayla Young continued to drive the ball back to our forwards.
It was a great team effort with all our players making significant contributions to their win, the club congratulates the Inaugural coach, John Mitchel and his team of helpers on this wonderful effort, in getting a group of women together for their first hit out.   
Final Score:  Hastings 10.10 (70) vs Officer 1.1 (7).
The Women's next game is this Friday night under lights at the Hastings Ground.
Hastings Women's Football team vs Cerberus/Crib Point Combined Women's Football team game time 7.00 pm, free entry.
***
John Coleman Luncheon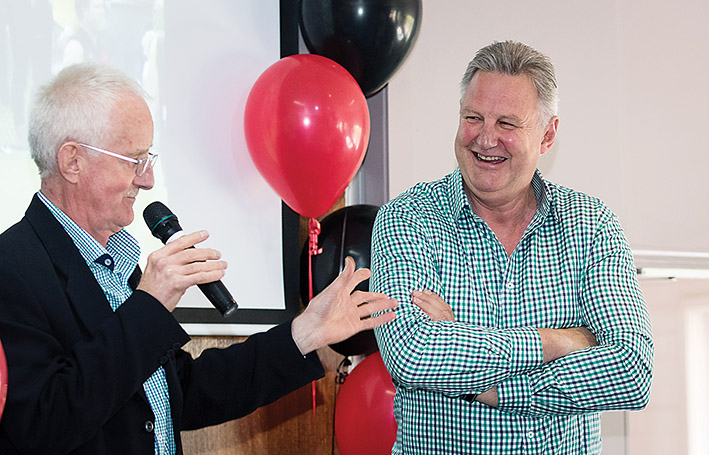 On Saturday at the Hastings Club the Fourth John Coleman Coterie Luncheon was held with an attendance of over 120 guests. The club was very fortunate to have former Richmond champion, Michael "Disco" Roach (pictured above with Doug Ackerley) as their special guest, who coincidentally had been interviewed by Doug Ackerly, the author of John Coleman's, 'The Untold Story of an AFL Legend', which was an outstanding success. The club also inducted 10 former players/officials into its Hall of fame with one legend being named.
The following individuals are now in the clubs history books, the club congratulates them and their families. Peter A Lewis, Peter J Lewis, Dean Morrison, Simon Powell, Fred Floyd, Bob Mayne, Shane Sparey, Alan Knox, Trevor Rollinson, Damon Lawrence and the legend inducted Peter Hibbert.
***
Upcoming Function:

 
Players Ball at the Mornington Racing Club on the 27th of May from 7.00pm – 11.30pm bookings can be made thru the Club by calling, 5979 1740 or through Emma Smith on training nights. Total cost – $100.00, which includes a two course meal and full access to the bar that will be open for two hours and serving solely, beer and wine.
***
Next Game:
Hastings FNC vs Red Hill FNC at Red Hill on the 20th of May. All games start from 10.00am, please don't be afraid to come along and support all of the teams.