PENINSULA LEAGUE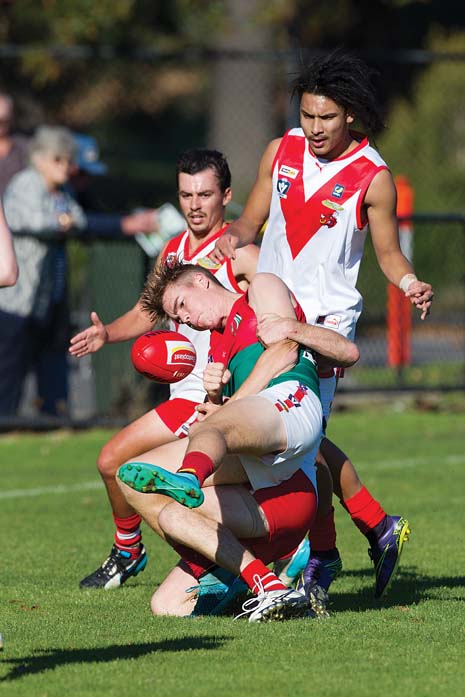 BONBEACH snapped a long-time hoodoo on Saturday by knocking over the previously undefeated Frankston YCW.
It seems the country championships bye gave the Sharks the time it needed to overcome its miserable loss to Seaford and bounce back against the league leaders, winning 12.17 (89) to 9.9 (63).
Frankston YCW hasn't been setting the world on fire this season but has been winning games of footy.
On Saturday against the Sharks, the Stonecats were jumped in the opening quarter and smashed in the second half in what was Luke Damon's final game after he announced his retirement after a brilliant career.
Bonbeach could have quite easily been a lot further in front at the first change but despite having six more scoring shots, only led by six points after kicking with the breeze.
Despite trailing by three points at half-time, Bonbeach had restricted the opposition against the breeze and set themselves up nicely for a big third term.
With Dylan Jones dominating in the middle and when he moved forward and Jackson Casey and Gary Carpenter setting things up across half-back, the Sharks were able to boot five unanswered goals in the third and go in at the change with a 35-point lead.
Trent Dennis-Lane (three goals) was causing some headaches in attack and Gavin Vassallo was also proving to be a handful for the opposition.
The Stonecats, as expected, hit back in the final term with three majors but Bonbeach was able to answer the challenge with a couple of their own.
The domination of the Sharks was highlighted by the fact it had 29 scoring shots to 18 – this rarely happens against the Stonecats.
Ryan Santon was one of YCW's best with three goals while Luke Paynter and Kevin Lylak worked hard in defence.
Bonbeach coach Steve Hughes said on Sunday morning that "coffee always tastes better on a Sunday when you win".
"It was a really good day for us, we played really well," Hughes said.
"We probably got them at a good time with a few of their stars playing VFL but we did play very well.
"It's not often that you walk out of Jubilee Park with the four points.
"We got our right whack against Seaford a couple of weeks ago. We were just going and they rightfully beat us comfortably.
"The week off was good and I was really happy with the maturity of the group. Everyone had an impact and whilst our good players continue to play well, we didn't leave it all up to them to get the job done," Hughes said.
Mt Eliza's woes continued in more ways than one on Saturday, beaten by Edithvale-Aspendale after the game was called off early in the last quarter.
In shocking scenes at Wooralla Drive, talented youngster Brody Shaw suffered a compound fracture of his leg and laid motionless and in horrific pain on the ground while it took more than 30 minutes for an ambulance to arrive.
The game was called off with the scoreboard reading 8.17 (65) to 8.9 (57). The Eagles led by two points at three-quarter time and kicked the opening goal of the final quarter.
The Redlegs have now lost to Chelsea and Edithvale in the past three weeks.
Coming off a grand final last season and after one full season under new coach Troy Shannon, it was expected that the Redlegs would be the main threat in 2017.
Whilst Saturday's loss was unusual, it was still a loss. Truth be told, Mt Eliza doesn't even look threatening right at the minute.
Aaron Edwards booted nine goals in Pines' big 17.16 (118) to 9.9 (63) win against Karingal.
After carrying a niggling injury over the past month, Edwards looked at his best on Saturday and completely dominated. Lachy Marshall was again outstanding for the Pythons also.
Pines now sits on top of the Peninsula ladder.
Chelsea made it three wins on the trot on Saturday, smashing Langwarrin by almost six goals.
The Gulls had previously won 10 games in four seasons and celebrated hard on Saturday night after its third straight win. Todd Gardner dominated for the Gulls with a couple of goals and Jack Francis was on fire with four goals.
The hapless Kangaroos are at an all-time low with zero wins in six matches. One really does wonder what has happened to this once powerful club. The envy of all clubs given its junior depth, the Langwarrin FC is nothing more right now than the butt of opposition jibes.
Seaford continued its domination, beating Mornington by 27 points.
The Tigers set-up the win with a blistering first term, booting seven goals to one.
Mornington rallied over the next three quarters but still went down 13.12 (90) to 18.9 (117).