SOCCER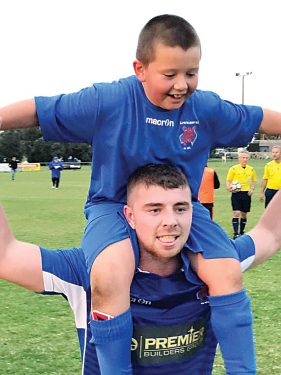 By Craig MacKenzie
TWO goals in the final two minutes gave Langwarrin a stunning 2-1 win over Mornington in Saturday's derby at Dallas Brooks Park.
Connor Belger's 91st minute strike was a goal for the ages and left Mornington players and fans gobsmacked.
Langwarrin had equalised in the 90th minute after Alex Metcalfe's curled strike from the left.
The ball eluded Liam Baxter's attempted header and deflected off Mornington stopper Steve Elliott before sneaking inside the far post.
A minute later Langy keeper Robbie Acs gathered then launched a long kick downfield.
Belger trapped the ball inside his attacking half then surged forward before unleashing a 30-metre strike that sailed over Mornington keeper Kris McEvoy who was at full stretch and into an unguarded goal.
The remarkable strike triggered a celebration among the Langy faithful that released the emotions built up over recent years from playing second fiddle to Adam Jamieson's outfit.
And when the final whistle sounded Langwarrin had beaten Mornington for just the second time in 11 games and surged seven points clear of second-placed Caulfield United in the race to win the championship and clinch a spot in Victoria's elite National Premier League.
Mornington had suffered a setback prior to the kick-off when captain Simon Webster failed a fitness test.
He was replaced in the starting line-up by Josh Valadon, returning from injury, with Nico Georgopoulos replacing Valadon on the bench.
Langy was without captain Boris Ovcin who was on holiday in Las Vegas, Caleb Nicholes was interstate, John Guthrie was suspended and gun central defender Kieron Kenny was still recovering from a quad injury.
Mornington looked threatening from the outset.
Ryan Paczkowski's pace and guile was evident in the early exchanges and Langy coach Gus Macleod was forced to rejig his defence with Nick Thorogood marking the dangerous Wayne Gordon.
Mornington should have hit the front in the 32nd minute but Paul Speed and Lewis Foster combined to clear Elliott's header off the line.
In the 39th minute Belger's left foot strike from just outside the area was mistimed and flashed wide and a minute later Andy McIntyre's intercept fell to Paczkowski whose low left-foot shot beat Acs for the opener.
In the 43rd minute Belger missed a great chance to level but he headed just wide following a Thorogood cross.
Paczkowski should have stretched Mornington's lead three minutes into the second half after a defensive blunder but he shot into the side netting from close range.
Aaran Currie's free kick in the 59th minute glanced off Valadon's head and onto the bar before being scrambled clear and in the 64th minute Jack Truelove's cross from the left found Matty Wade unmarked at the far post but he headed wide.
With five minutes of normal time left Belger's shot in the 85th minute was blocked, substitute Nabil Mozaffarrudin headed down from the rebound but McEvoy parried Metcalfe's shot from 10 metres.
Mornington substitute Nathan Smith curled his 88th minute attempt just wide of the far post before Metcalfe and Belger turned this contest on its head.
Saturday 27 May 2017 is an historic day for Somerville Eagles who won their first league game in State 5 South by beating White Star Dandenong 3-0 at Greaves Reserve.
For posterity the Eagles' line-up was Neil Herd, Ciaran McConville, Kevin McCormack, Matthew Swanson, Mark McIvor, Joel Wade, Jarryd Lymer, Damien Finnegan, Alex Colville, Patrick Acha, Liam Morgan. Substitutes: Ryan Francis, Mathew Roach, James McKenzie, Bailey Henderson.
Lymer (19th and 29th minutes) and McIvor (51st) were the goalscorers and immediately became Eagles immortals.
"Finally we got the win. The song was sung with gusto let me tell you," said an excited Eagles president and assistant coach Felix Arena.
Eagles' striker Eric Manahong has recovered from injury and is expected to come into the matchday squad for Saturday's home game at Barber Reserve against Rowville Eagles.
Frankston Pines went down 3-2 to Beaumaris at Beaumaris Reserve in Saturday's State 2 South-East clash.
Cedric Permal scored his first goal for Pines in the 35th minute and substitute Ioasa Saemo was played in by Jack Wrobel in the 72nd minute and finished well.
Beaumaris striker Toby Nowell notched a hat-trick.
Harry McCartney reports that Seaford United found another way to drop points late in the game when it lost 2-1 away to Old Scotch in their State 2 South-East fixture last weekend.
The sides were deadlocked at the interval after a first half in which the home side transitioned quickly whenever it won possession while Seaford took a more conservative approach playing into the wind.
Three minutes into the second half Old Scotch hit the front after a poor pass from Matty Morris-Thomas allowed Piotr Korczyk to skip clear and sidefoot the ball past Seaford keeper Harrison Burgess.
In the 70th minute a long high ball into the attacking half caught out the Old Scotch defenders appealing for offside against a Seaford striker who made no attempt to attack the ball.
Alex Roberts broke clear and rounded Old Scotch keeper James Toulson before making it 1-1.
In the 78th minute Seaford failed to deal with a corner and Sam Shearer got the final touch for what proved to be the winner.
Peninsula Strikers won 1-0 at home against Heatherton United in a State 2 South-East fixture last weekend thanks to a 36th minute Sam Scott goal.
Skye United lost 4-2 to ladder leader and championship favourite Knox City in their State 3 South-East contest at Egan Lee Reserve on Saturday.
Skye kicked off proceedings in less than a minute when Daniel Attard's toe-poke sent Jason Nowakowski clear and he finished well to put the visitors ahead.
However Knox prevailed for the rest of the half and deservedly went into the shed 3-1 up with goals from Nem Verscharen (18th minute), Phil Hawkins (24th), and Matthew Hames (30th).
Knox continued to dominate in the second half and Sam Wheeler made it 4-1 after finishing off a cutback inside the six-yard box.
Skye made it more of a contest in the last half an hour and was rewarded in the 69th minute after Attard beat the offside trap following a through ball from Jacob Scotte-Hatherly to complete the scoreline.
Baxter had to settle for a 2-2 away draw against Harrisfield Hurricanes in last weekend's State 4 South fixture.
Mark Pagliarulo shielded the ball then turned and hit a firm shot that gave Baxter the lead in the 15th minute but goals to Ilias Tzintzis (21st minute)and Tasos Psonis (26th) gave the home side the upper hand.
In the 38th minute Pagliarulo was felled inside the area and converted from the spot to make it 2-2.
Baxter had chances to claim all three points in the second half but failed to convert.
Five Harrisfield players were cautioned while Baxter's sole transgressor was new signing Edin Aljija from Springvale City.
Alan Lipsett from Rosebud Heart also made his Baxter debut.
David Greening's fourth hat-trick in five games powered Rosebud Heart to a 5-1 away win over Hampton Park United in their State 4 South clash on Saturday.
Blad Klarenbeek was in goal for Heart deputising for Sean Skelly who had joined the holiday exodus to Las Vegas.
In the 21st minute Greening's long run cutting in from the right ended when he was felled inside the area and he scored from the penalty spot.
A fine interpassing move in the 29th minute involving Chris Sibson, Mikey Turner and Blake Hicks was finished by Greening to make it 2-0 and six minutes later Cory Osorio let fly from outside the area and a slight deflection made it 3-0.
Greening completed his hat-trick in the 52nd minute and turned provider four minutes later with a far post ball that enabled skipper Daniel Hodge to slide in and finish.
Beau Sharpe took down an opponent inside the area in the 81st minute and although Klarenbeek saved the initial penalty attempt and the rebound he couldn't stop Matthew Esquivel a third time.
This weekend's games:
SATURDAY 3pm: Clifton Hill v Langwarrin (Quarries Park), Malvern City v Mornington (Kooyong Park), Frankston Pines v Heatherton Utd (Monterey Reserve), Berwick City v Seaford Utd (Jack Thomas Reserve), Skye Utd v Collingwood City (Skye Recreation Reserve), Baxter v Monash Uni (Baxter Park), Rosebud Heart v Harrisfield Hurricanes (Truemans Road Reserve), Somerville Eagles v Rowville Eagles (Barber Reserve).
SUNDAY 3pm: North Caulfield v Peninsula Strikers (Caulfield Park).