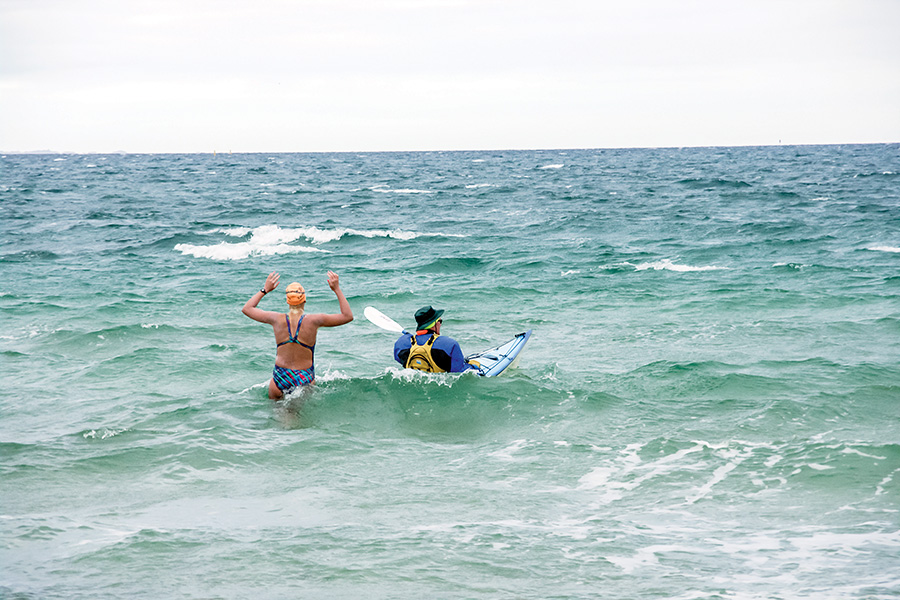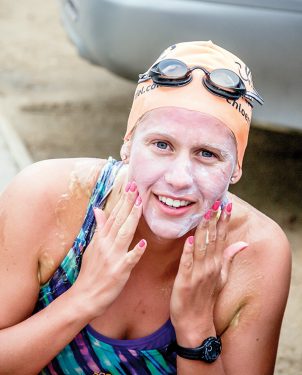 MARATHON swimmer Chloe McCardel was crouched in the near-empty car park near Safety Beach Yacht Club slapping on sun protection and a concoction of Vaseline and lanolin. Thursday's cloudy skies and 15-20kph winds made the water unappealing, but McCardel was on a training mission.
She holds the world record for an unassisted ocean swim (124.4 kilometres in the Bahamas in October 2014) and has swum the English Channel 21 times (eight crossings between June and October last year).
Without wanting to give the game away, she admits to be training for another record swim, but says the details have to wait. "People from all over the world are waiting, but I'll let them know in a few months," she laughs before running to the water's edge.
Once off the beach and shepherded by kayaker Ian Stevenson, of Mornington, McCardel is hard to discern in the chop.
This is the third day running they have been on the bay and McCardel says she will have swum 122 kilometres by week's end.
During the six and seven hour swims McCardel drinks warm tea carried by Stevenson. He also hands her muffins and banana bread (a favourite), which she's become skilled at eating while treading water, even with wet hands.
Thursday's swim was planned to take her past Rosebud pier where she's arranged to see her mum, Meg, who lives at McCrae.
"I won't be stopping, just a wave," McCardel says.
Unhappily, the rendezvous fails. Stevenson's kayak is overturned about one kilometre offshore and he and McCardel have to struggle ashore.
But Meg is there to save the day and drive them back to collect their vehicles at Safety Beach.
Friday dawns clear, and McCardel spends seven hours in smoother seas. And Stevenson remains upright in the kayak, keeping the tea warm and the banana cake dry.                             
First published in the Southern Peninsula News – 30 May 2017