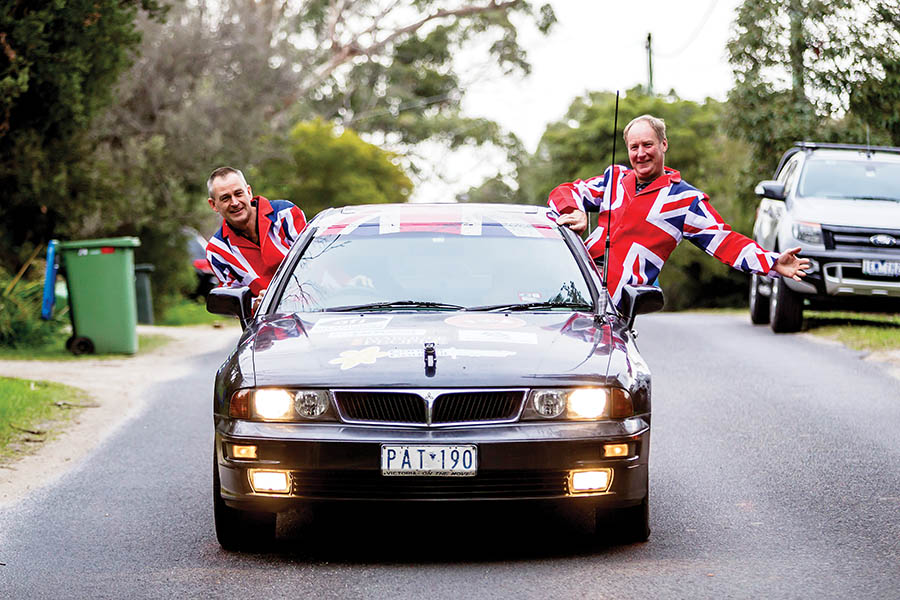 DRIVING from Adelaide to Cairns to raise money for cancer research is all in a week's work for Nick Bolitho and Martin Foad (aka The Whinging Poms) in this week's Shitbox Rally.
The pair left Mt Martha on Thursday for the short hop to Adelaide where they will join the rally and drive up through the outback, hoping to arrive in Cairns on Friday 2 June, more than 3800 kilometres away.
Their Mitsubishi Verada is loaded with their swags, esky, road trip CDs, yellow fancy dress costume and union jack dinner jackets for big nights out as well as wipes for cleaning up the dust.
"The trip will see us face the challenge of highly variable terrain, remote outback roads and changing climates," Mr Bolitho said.
"The route will take us via the Oodnadatta Track and the Plenty Highway and we will be doing this in a car worth less than $1000."
The road will be long and bumpy. The Oodnadatta Track is an unsealed 617 kilometres between Marree and Marla via Oodnadatta in South Australia.
The Plenty Highway is a mostly unsealed 498 kilometres between the Stuart Highway in the Northern Territory and north-western Queensland.
It has taken a while to be able to even join the rally. Mr Bolitho's wife Michelle said Nick always wanted to get involved and put his name on a waiting list three years ago. Now his time has come.
"The rally is not a race, but rather a challenge to drive cars costing under $1000 across Australia via some of its most arduous roads, all in the name of charity," Mr Bolitho said.
"We not only want to raise awareness and money for the Cancer Council, but we want to be able to offer support, and a friendly ear, to those who have suffered or who are suffering.
"Many of us have been affected by cancer in one way or another – whether it be parents, family, close friends, people we know or ourselves that have battled or are battling cancer. This all too common and the horrid disease has touched us all."
The men are calling for donations to raise at least $5000 for the Cancer Council.
Follow them on Facebook at The Whinging Poms – Shitbox Rally 2017 and on Instagram @the whinging poms. Donations can also be made on these sites through the link to the fundraising page.
The event has raised more than $11 million for the charity with this year's donations standing at $1.5 million. Details: shitboxrally.com.au